---
Threats of violence is never acceptable, but she's also going after "hate speech", with the Swedish people leaving it up to her and officials to decide what is exactly "hate speech".
What's also ironic is that she mentioned artists needing protection as well, even Lars Vilks (who I personally met and interviewed many years ago), but it's exactly artists such as the brave and prescient Vilks who ran afoul of their insane "hate speech" laws. These people are all over the map on this issue because they do not have a solid footing on the concept of individual liberty and the Enlightenment. Also, journalists are one of the chief violators of free speech today, using their profession as a means to advance their and the ruling elites' political agendas.
'Swedish police should prioritize crimes against freedom of speech'
The Local speaks to Sweden's Culture and Democracy Minister Alice Bah Kuhnke about the government's plan to crack down on threats and hate against politicians, journalists and artists.
This interview is part of our Sweden in Focus article series. Read the main feature here:
The government has presented 'Defence of the Free Word', an action plan to combat threats and hate against journalists, elected representatives and artists. Could you explain the background?
Threats against journalists, elected representatives and artists have been highlighted in a series of studies, and also through reports from victims. Apart from the fact that the government has commissioned and financed surveys to ensure that the measures we invest in contribute to positive change, we have also learned from studies and intense roundtable discussions with everyone from editors-in-chief and journalists to artists and organizers – because another thing that has been noted is that when a museum for example invites an artist to put together an exhibition they have received more and more threats in recent years linked both to the artist but also to the theme. There have been concerning signs and discussions about museums and organizers risking self-censorship because of security costs.
We have been talking about this and I have also travelled around the country to meet many of the various groups being targeted. That's the background why we adopted this action plan against hate and threats.
Recommended interview:

Swedish artist Lars Vilks has been threatened on multiple occasions. Photo: Fredrik Sandberg/TT
Many others have reported being threatened in their line of work in the past 12 months: one in five librarians, four out of ten police officers, and so on. Why does the action plan focus on these professions in particular? 
Journalists, artists and elected representatives work on the basis of those freedoms and opportunities that free speech offers. So when they are threatened, free speech is also threatened. That's the simple explanation, because there are other groups in society who are also exposed to a lot of threats, everything from social workers to environmental health inspectors in restaurants and so on, but this is for professionals working with free speech.
NOTE: A more worthwhile reading/viewing of the issues of free speech vis-a-vis "hate speech" laws can be found here, with Flemming Rose's speech in Helsinki a couple of years ago which I attended.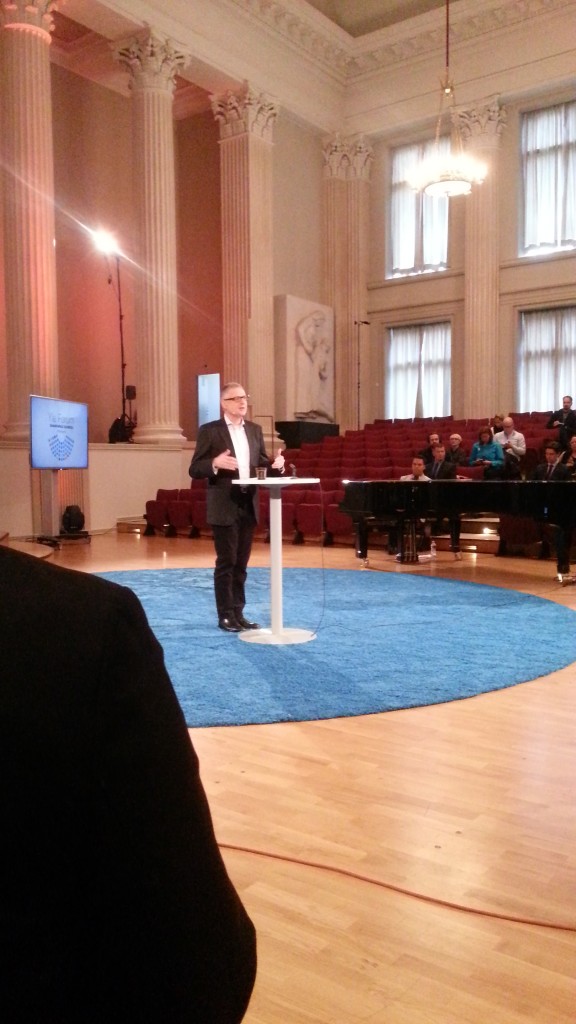 Excerpt:
And how did it start?

It started in the 1990s, right after the fall of the Berlin Wall, with laws criminalizing Holocaust denial, and these laws are driven by what I would call a benign utopia, Europe's dream of a world without hate. But as we know from history, when it comes to utopia, the first victim is always freedom. Every time we try to create it, a more perfect world.

In fact, these laws criminalizing denial of the Holocaust, they were passed with the best of possible intentions in order to protect the victims of the genocide of European Jewry during the Second World War.

In 2008 the European Union demanded that all member states pass these laws criminalizing the denial of the Holocaust or downplaying the importance of the Holocaust. Today these laws are the books in 13 member states in the European Union, and just two weeks ago the EU commission in charge of this field once again called on all European Union member states to pass these laws.

These laws are based on a specific reading of the events that led up to the Holocaust and triggered the Holocaust. It is basically saying that evil words will lead to evil deeds. That if you do not criminalize racist speech or incitement you will sooner or later have racist violence.

And if you allow people to deny crime against humanity, you may run the risk that it will repeat itself, it will happen again.

I think that is a problematic reading of the events leading up to the Holocaust, even though I acknowledge and I believe that there is a relationship between words and deeds, and anti-Semitic speech, anti-Semitic propaganda played on a visible role in the events leading up to the Holocaust.

But, in fact in Weimar Germany in the '20s and '30s you did have hate speech laws protecting Jews against anti-Semitic speech. If you take Joseph Goebbels, the propaganda minister of Adolf Hitler, he was taken to court many times by the Vice Police Director of Berlin, Bernhard Weiss, who was Jewish, and Goebbels basically lost all the cases.

And if you take, Julius Streicher, the editor and chief of Der Stürmer, the anti-Semitic magazine that was being published in the '20s and '30s, Julius Streicher went to jail twice for anti-Semitic speech. His magazine over the course of ten years was confiscated or taken to court 36 times. So there were laws on the books protecting Jews against verbal attacks, but they didn't work.

And these laws criminalizing Holocaust denial, they are now being copied and have inspired other kinds of laws in other parts of the world where they do not have the same good intentions.