---
Terror in Barcelona: Police shoot dead one suspect after THIRTEEN die and 64 are injured – including children – when white van crashes into crowds in Las Ramblas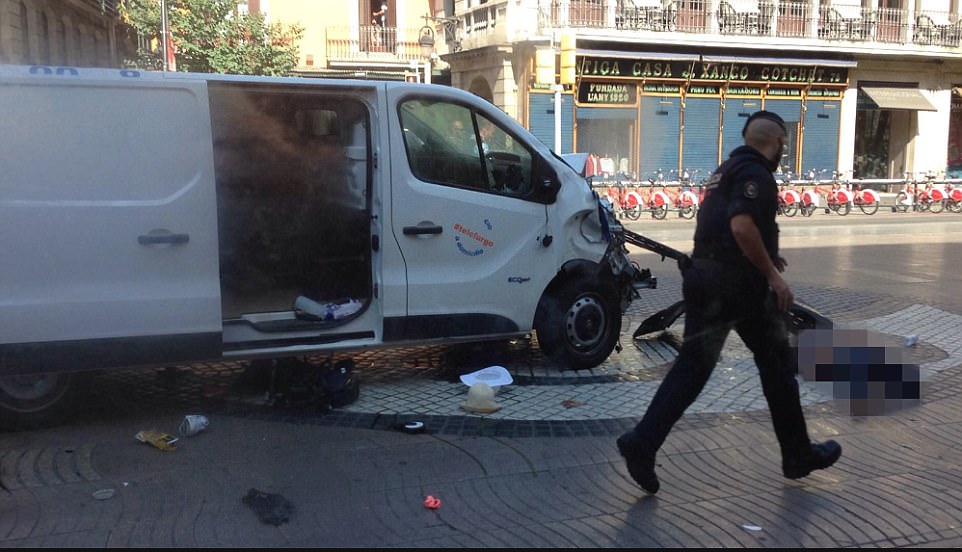 13 dead and dozens hurt as van drives into crowds of people in Barcelona amid reports of gunshots nearby
Harrowing footage shows dozens of bodies lying on the pavement as armed police rushed to secure the area 
Local media have reported that a man named as a suspect – Driss Oukabir – has been arrested by police 
One suspect is reported to have been killed after a shootout with police hours after the initial van attack 
Emergency services rushed to the scene near the Las Ramblas tourist area as people are urged to stay away 
Spanish prime minister Mariano Rajoy said he is in contact with the emergency services at the scene   
Did you see what happened in Barcelona, or do you know someone who did? Get in touch by emailing abe.hawken@mailonline.co.uk or calling 0203 615 3908
At least 13 people have been killed and dozens injured in Barcelona after a van ploughed into pedestrians in a busy tourist street.
More than two hours after the atrocity a man was shot dead after driving through a roadblock in a Ford Focus and opening fire, injuring two police officers.
ISIS has claimed responsibility for the attack.
Terror police have also arrested a man, believed to be Driss Oukabir, a Catalan resident in his late 20s of Moroccan origin.
Oukabir had earlier rented one of the vans used in the deadly attack. The suspect is being treated 'as a terrorist', police in Barcelona have confirmed.
Horrifying pictures and video emerging from the scene show armed police and paramedics rushing around Las Ramblas, a busy promenade in the centre of the city, as victims lie hurt in the street.
It remains unclear how many attackers were involved in the incident, which is being treated by police as a terror attack.