---
Not only the text of the piece is highly problematic, look at the picture (directly below) the 'gatekeeper' chose to give the go ahead on.
Never would they say that Greens party candidate Pekka Haavisto is a 'hardliner' for homosexual issues, or that The Left's candidate (marxist) Li Anderson is a 'hardliner' for her cause. No, the Finns Party is the only mainstream party that I know of whose candidates are shackled with such heavy baggaged language. A more flattering pic of the woman from the same event: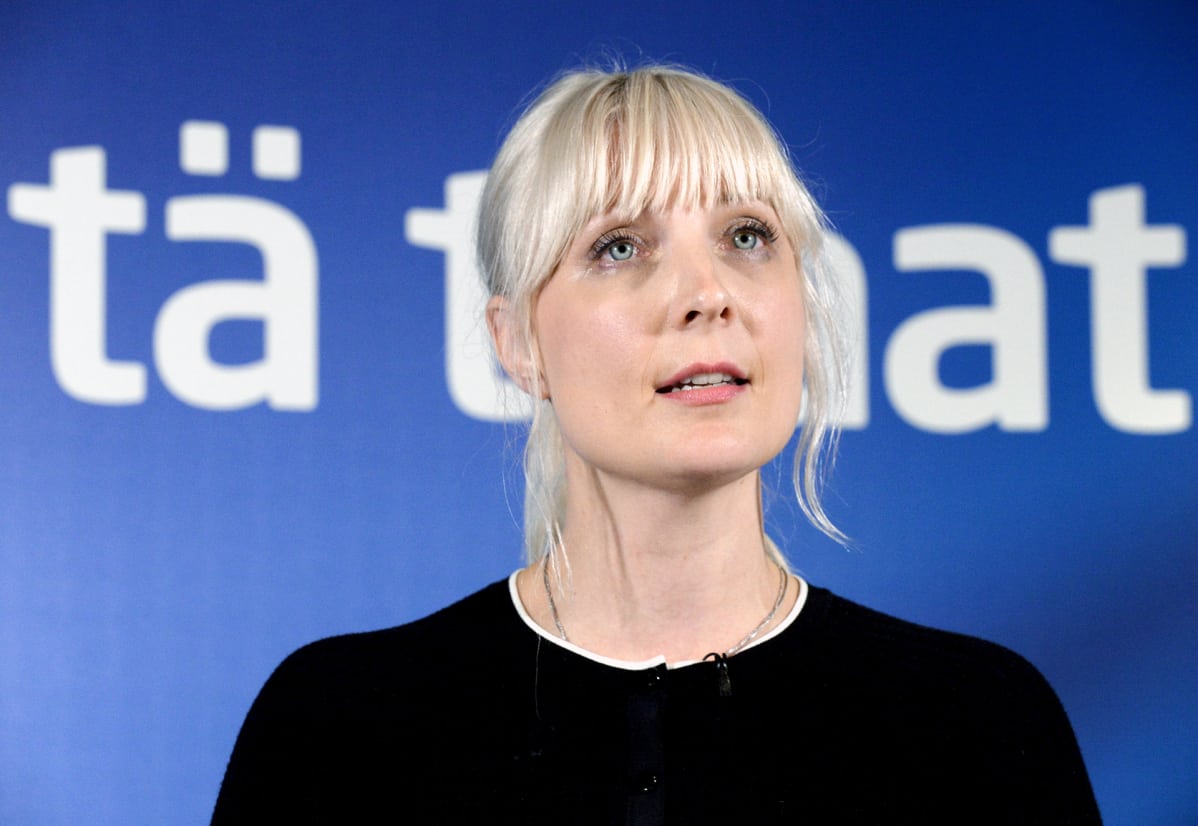 Finns Party leadership proposes hardliner Huhtasaari as presidential candidate
Finns Party leadership has selected Laura Huhtasaari to represent the party as a candidate in Finland's next presidential elections, scheduled for January 2018. The party congress still has to approve the motion at its meeting in September.
Finns Party first deputy chair and MP Laura Huhtasaari has been selected by the party leadership to represent her party in the 2018 presidential elections. The populist Eurosceptic political party is still recovering from a dramatic schism in June, after prominent members of the party defected to found a new more moderate party once convicted hate speech offender Jussi Hallo-aho was elected chair.
The decision to select Huhtasaari was made by the Finns Party leadership, based on questionnaires distributed to each of the party's district chapters. The group's official candidate must still be confirmed by the party congress in September.
Huhtasaari was chosen as the first deputy chair of her party in June, as the party membership took a step in a more nationalist direction. She defeated Defence Minister Jussi Niinistö with Jussi Hallo-aho's support. Niinistö was one of several high-profile ministers and MPs who subsequently left the Finns Party to start a new political movement that initially called itself the New Alternative.
Anti-immigrant creationist
In the last parliamentary election, Huhtasaari won over 9,000 votes in the western region of Satakunta.
She has made headlines with fierce political rhetoric that she boasts is "free of pretence and hypocrisy".
As one of the most vocal opponents of immigration in her party, she has demanded that asylum seekers be denied entry in Finland "by all means necessary", said the fear that Islam inspires can be explained by "Muslim backwardness", and visited the makeshift camp of the far-right Suomi Ensin (Finland First) group that has ties to neo-Nazis.
She has questioned the reasoning behind basic human rights, and suggested that sex offenders be deported to Estonia for punishment.
A frequent visitor to the USA, she has also made no secret of her admiration for US President Donald Trump. A teacher by profession, she has also criticised evolution on social media.
"People are just not animals and never were. It is an impossible theory that humans descended from animals over time. Such a perfect, systematic world could not have occurred by accident… Even if I didn't believe in God, I would not believe in Darwin either," she has written on Facebook.
Strong criticism for splinter group
Huhtasaari has also repeatedly attacked the faction of former Finns Party members who left the party in June, with not even Sauli Niinistö spared:
"It's not just the New Alternative that is guilty of hypocrisy, even the President of the Republic has succumbed to it," she said in sparring on the floor of parliament after the split.
"I wish the New Alternative a nice spell in government, under the thumb of [Prime Minister Juha] Sipilä and [Finance Minister Petteri] Orpo. Remember to do as you are told and the shiny black car will be waiting outside tomorrow, too."
Joining a crowded field
If confirmed by the party congress, Huhtasaari will join five other presidential candidates who have already indicated that they are in the running.
The incumbent Sauli Niinistö will run as an independent, not as a representative of his former centre-right National Coalition Party, and is seen as the clear favourite to win a second term. He is joined by the Greens' Pekka Haavisto, who gave Niinistö a run for his money in the last election, the Centre Party's Matti Vanhanen, the Left Alliance's Merja Kyllönen and the Swedish People's Party's Nils Torvalds.
The Social Democrats will name their candidate in September, after a member survey in August.