---
Clue bat for the bishop, they are at war with Christianity, Judaism and everyone else who are not devout Sunni believers…
I'm so desperately tired of complete goofballs being in positions of leadership. Read what she says and thinks, so demonstrably wrong that it's frightening. Conflating Islam with other religions is buffoonish, Islam is the platypus of ideologies, it's something all by itself. The adherents of the ideology all have one goal, that Islam will be the dominate, then only, ideology left standing. They talk from both sides of their mouths knowing fully well that entirely naive and gullible people in positions of power are unable to discern their game play and long term strategy.
"Religious Dialogue, Getting to know each other and a humanitarian refugee policy is best to fight against terrorism."
Complete and utter nonsense.
Bishop Irja Askola: Temple Square terrorist threat is an indication of injustice
The bishop fears the terrorist threat targeted at the Church of being  branded as a possible confrontation between Christianity and Islam.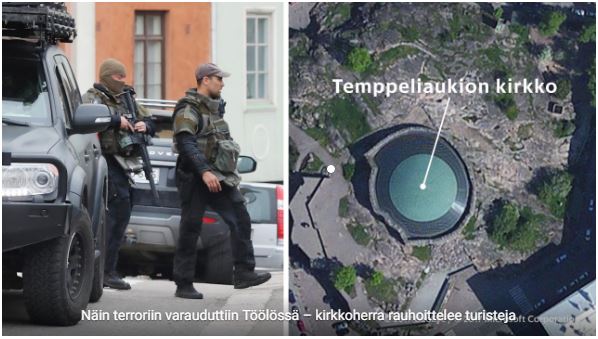 The Temppeliaukio church, which on Sunday was the focus of a terrorist threat, is part of the global cry of injustice, estimates Bishop of Helsinki Irja Askola . Bishop Askola has worked since 2010 will retire in November. Her successor will be chosen in a bishop's election, the first round is the 16th August.
"The threat of terrorism in general sounds bad, but I think that we should hear the global crying of injustice in big capital letters," Askola says.
Askola is not really concerned that  Finland will be continually subjected to terrorist intentions, specifically for churches.
"Violence is always worried about, it is directed to anyone or in any gathering. Terrorism is always searching for symbolically significant places, "says Askola.
According to the NATIONAL BUREAU OF INVESTIGATION , the Underground Church was a clear target for an attack. The church was mentioned last year in Isis' propaganda journal as a "pagan church."
Askola emphasizes that it's still unknown whether the confrontation between Christianity and Islam is behind the potential terrorist threat, but the case can easily be branded as such. However, according to Askola the task of the Lutheran Church is to also show that there is room in Finland for the exercise of various religions.
"It is very important that we have a very good working relations with the Islamic communities leaders here in Helsinki. Together, we strive to take care of social peace, "says Askola.