---
The irony being, is that more and more people already know what a niqab is, and given their trajectory, niqab wearing will be the norm, not the exception.
Another issue is, the fact that in the name of multiculturalism and the political correctness which under girds it, authorities have created two separate laws/rules for society. One set for normal regular people, and one set for the rest.
Swedish football fans protest mask ban by wearing niqabs
Any doubts over whether it was done in protest were eliminated by the large banner supporters also held up, targeting minister for home affairs Anders Ygeman, who spearheaded the legislation.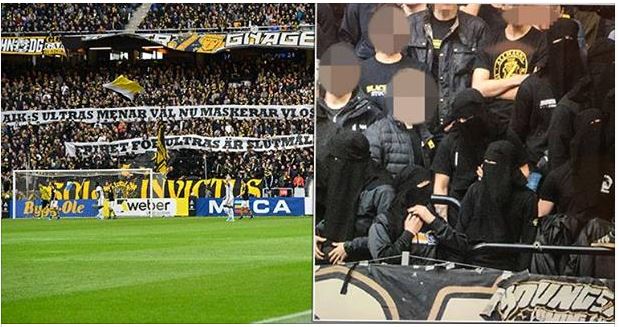 "AIK's ultras mean well, we're now wearing masks for religious reasons. Freedom for ultras is the goal, thanks Ygeman for the loophole," the banner read.
The minister, who supports AIK's biggest local rival Djurgården, took the banner with good humour.
"In all honesty I thought the banner was quite funny. It shows that AIK fans have a bit of humour," he told tabloid Aftonbladet.
The minister added that he doesn't expect niqabs to become a new trend among Sweden's football ultras, and that if necessary, courts can make the distinction over whether someone was covering their face because of one of the exceptions to the rule or not.
The mask ban came in response to serious problems at Swedish football matches, including a match between Jönköpings Södra and Östersund being abandoned in August 2016 after a masked supporter ran onto the pitch and assaulted Östersund goalkeeper Aly Keita.