The preliminary status of the program, the mosque would have a total floor area of 2 700 square meters and multi-function center total floor area of 15 500 square meters. (PHOTO: Petri Parkkinen )
---
This grand mosque is meant for the gradual subversion and conversion of all Finns.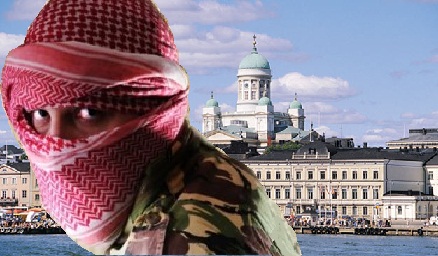 Photo of sketch dimensions: What the Helsinki 140 million Euro large mosque could look like
According to an expert Bahrain's promised funds for grand mosque has associated risks.
The design for Helsinki Hanasaari's grand mosque has sparked heated debate and its financing model is concern for the increase in extremist interpretations of Islam.
The planned size of the mosque is for 2700 square meters. The design for the grand mosque has an intended multipurpose center that would include, among other things, a social center and sports center, and the size of which would be according to lot application of 15 500 square meters.
The design of all the rooms will take into account the special needs of Muslims.
The total floor area of the premises would be 18 200 square meters, which would correspond to almost the main building of the Parliament. Real estate agency told Parliament that the main building's total gross floor area do not have exact figures, but it is about 20 000 square meters.
Finland could soon see the construction of a 'Grand mosque' in Helsinki. It's a big project, with minarets, a gym, a conference centre, a social centre and other facilities spanning an area greater, Ilta-Sanomat reports today, than the parliament building. If the project is to proceed, Helsinki's planning committee needs to reserve a plot of land east of the city centre for its construction, and that application is in the works.
IS has three pages on the project today, covering the scale of it and especially the costs. Construction will come in at more than 140 million euros, while running costs are unlikely to be cheap. Financing is one of the lines opponents have taken, with Bahrain offering to facilitate the planning and help arrange money to fund the building itself.
That's the same Bahrain that's been slammed by human rights organisations, and that is close to the wahhabist monarchy of Saudi Arabia. Fears they could bring a fundamentalist doctrine to the mosque are not without foundation, and IS asks researcher Olli Ruohomäki about the risks involved.
"There's no such thing as a free lunch," said Ruohomäki. "The challenge is that an ideology could be fed that is out of tune with the values of a liberal democracy."
That's not a concern for everyone. Helsingin Sanomat publishes a poll on Monday that shows 55 percent of respondents supporting the construction of a Grand mosque, providing it does not cost taxpayers a cent. City councillors are evenly split on the issue, and it has been a campaigning topic for some candidates in Sunday's local elections.