---
It's the same old face……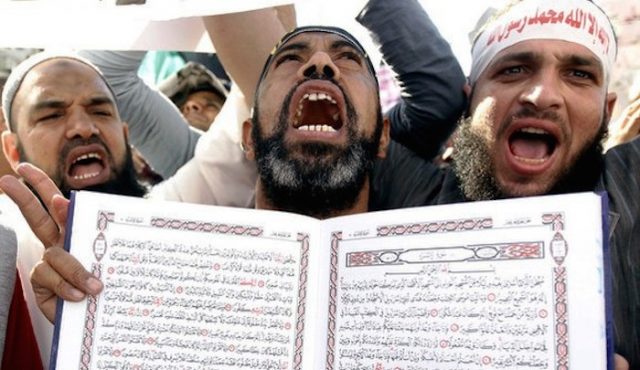 The only way to prevent that from happening again – writ large – is to reinforce that guard by reinforcing our control over eastern Israel. 23 years after the peace was signed, nothing has changed in the Kingdom of Jordan. No hearts and minds have been turned in our favor. The peace treaty has not protected us. The only thing that protects our children is our ability and willingness to use our weapons to protect them from our hate-drenched neighbors with whom we share treaties of peace.
THE REAL FACE OF JORDAN
Every once in a while, the Jordanian people are given a chance to express how they really feel about Israel.
March 21, 2017
Jordan is the country to Israel's east with which Israel has had a formal peace for 23 years.
And its people hate Israel, and Jews, even more than the Iranians do.
Every once in a while, the Jordanian people are given a chance to express how they really feel about Israel. It's ugly.
Twenty years ago, on March 13, 1997, 7th and 8th grade girls from the AMIT Fuerst junior high school for girls in Beit Shemesh packed box lunches and boarded a school bus that was to take them to the Jordan Valley for a class trip. The high point of the day was the scheduled visit to the so-called "Island of Peace."
The area, adjacent to the Naharayim electricity station, encompasses lands Israel ceded to Jordan in the 1994 peace treaty and Jordan leased back to Israel for continued cultivation by the Jewish farmers from Ashdot Yaakov who had bought the lands and farmed them for decades.
Israel's formal transfer of sovereignty – and Jordan's recognition of Jewish land rights to the area – were emblematic of the notion that the peace treaty was more than a piece of paper. Here, officials boasted, at the Island of Peace, we saw on-theground proof that Jordan and Israel were now peaceful neighbors.
Just as Americans in California can spend a night at the bars in Tijuana and then sleep it off in their beds in San Diego, so, the thinking went, after three years of formal peace, Israeli schoolgirls could eat their box lunches in Jordan, at the Island of Peace, and be home in time for dinner in Beit Shemesh.
Shortly after they alighted their buses, that illusion came to a brutal end.
The children were massacred.
A Jordanian policeman named of Ahmad Daqamseh, who was supposed to be protecting them, instead opened fire with his automatic rifle.
He murdered seven girls and wounded six more.