---
Why would any normal state want to sit down with the likes of these cretins?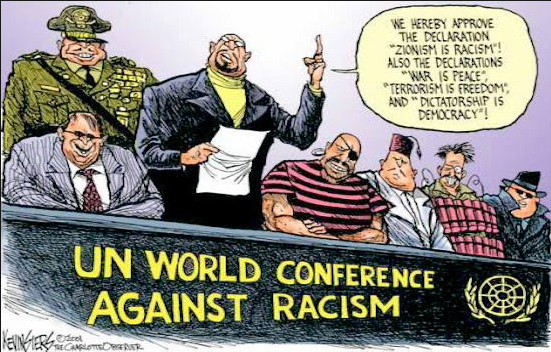 Trump Admin To Boycott U.N. Council Over Anti-Israel Agenda
In First, U.S. Will Not Attend U.N. Human Rights Council Meeting
BY: Adam Kredo

The Trump administration will boycott the United Nation's Human Rights Council, or UNHRC, due to its efforts to advance an anti-Israel agenda, according to senior administration officials familiar with the effort who spoke to the Washington Free Beacon.
The UNHRC, which includes member countries cited for mass human rights abuses, is poised on Monday to adopt at least five anti-Israel resolutions, prompting outrage in the Trump administration over what officials described as the council's unjust bias against the Jewish state.
The action on these items has prompted the Trump administration to boycott the council and refuse to attend the Monday meeting, according to administration officials apprised of the situation who spoke with the Free Beacon.