---
As well as the rest of the activist scumbag media…..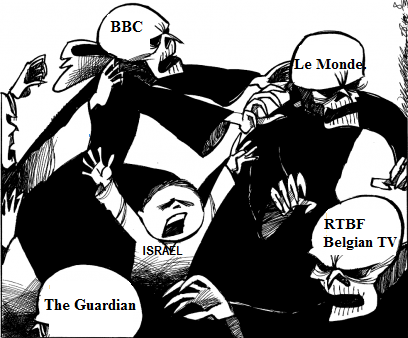 The Dirty Little Secret of Palestinian Journalism – with Agence France-Presse Collusion
Nasser Abu Baker, Chairman of the Palestinian Journalists Syndicate (PJS), who also works as a correspondent for Agence France-Press (AFP), also lashed out at Al-Quds for publishing the Israeli advertisement. "We are determined to combat normalization and those who promote it," he vowed.
Abu Baker, who recently ran in the election for the Fatah Revolutionary Council, is the architect of the PJS campaign to boycott Israeli journalists and media outlets. His political activism constitutes a flagrant violation of the regulations and principles of AFP, and a conflict of interest. However, this does not seem to bother his employers at the French news agency, who apparently do not see a problem with one of their employees running in the election for Fatah's Revolutionary Council.
Abu Baker and his colleagues have one mission: to "combat normalization" with Israel. For them, this task far exceeds in importance exposing financial corruption in the Palestinian Authority (PA) or reporting about assaults on freedom of expression. It is also evidently more important than protesting the arbitrary arrest and torture of their colleagues at the hands of the PA and Hamas.
One can only imagine the response of the Western mainstream media if the chairman of the Israeli Journalists Union or the Government Press Office called for a boycott of Palestinian journalists.
Palestinian journalists are up in arms. The Palestinian Authority (PA) in the West Bank and Hamas in the Gaza Strip are arresting and torturing them, and imposing severe restrictions on their work and freedom of expression. But that is not what is upsetting them.
No, the journalists are angry because a Palestinian daily newspaper dared to publish a paid advertisement by the Israeli authorities. The journalists are now demanding that the newspaper, Al-Quds, apologize for running the advertisement by the Israeli Civil Administration in the West Bank.