---
She didn't become 'radicalized', she became Post-Hijra Islam 101 compliant.
Who knows, perhaps when she's finished with her tour of duty in Syria-Iraq, she'll run for office for the Finnish feminist party, like (pictured below) so called feminist Aulikki Esra Lehtinen. Lol!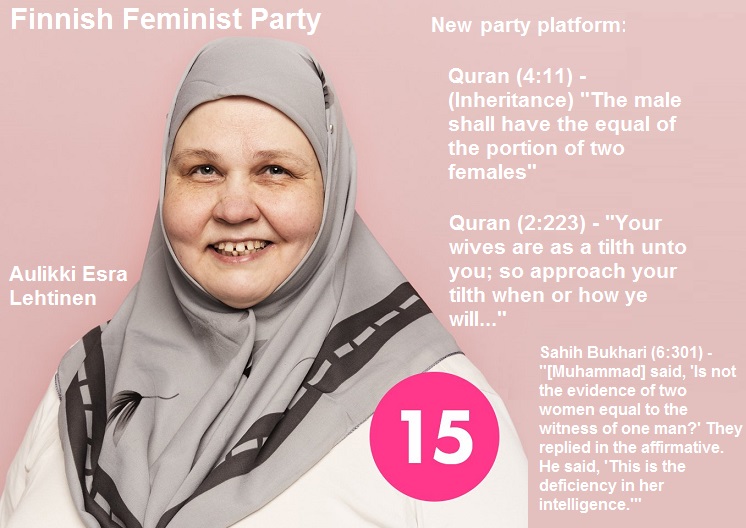 Article by "Finnish woman" published in IS terror propaganda magazine
The writing of a female member of the terror group Islamic State – who is reportedly from Finland – has appeared in the online terrorist propaganda publication Rumiyah. The woman, credited as Umm Musa al-Finlandiyyah, reportedly converted to Islam and became radicalised a couple of years ago.
A woman in her early twenties – and reportedly a radicalised Finnish national – has made a contribution to the terrorist propaganda publication Rumiyah, by writing an article on why she thinks the Islamic State represents the real Islam. The article, credited to a writer named Umm Musa al-Finlandiyyah, was published last week.
Al-Finlandiyyah's name was earlier used on a Facebook account by a young Finnish woman living in Raqqa, Syria.
In her article, titled "What they never told me," she attempted to prove which kind of people are 'real Muslims' and which are not. Al-Finlandiyyah wrote that since having left Finland she knows how difficult it is for Muslims to protect themselves from nonbelievers. She has been a member of IS for two years.
Supo: Single article not a threat increase
Communications chief at Supo, the Finnish Security Intelligence Service, Jyri Rantala says that the publication of a single article is not a sign of an increased threat against Finland.
However he noted that Finland is increasingly featured in Islamic terrorist propaganda.
"It's a typical story that was seasoned with local nuances," Rantala said, saying that the woman's personal history was largely overlooked in the article. Finland is only referred to in general, as "the infidel country."
An article similar in nature was written by a Finnish woman about six months ago. That writer was reportedly married to a Somali man who had earlier been acquitted of terrorism charges. The woman, who was apparently raised in a Christian family in Finland, converted to Islam and became radicalised.
There have also been other incidents of Finland-related references in IS publications in recent times.
According to Supo the reason for the increase is that some of the radicalised people from Finland who joined up with IS have since elevated themselves to influential positions within the organisation.
Rumiyah not for faint of heart
Rumiyah is an underground web-based publication which IS uses for recruitment and to spread propaganda. An issue of the publication seen by Yle News contained articles in English on a variety of terrorist-related topics.
It included articles aimed to help readers pinpoint which terror tactics to implement and when; how to efficiently use knives in terrorist attacks and a feature on the importance of indoctrinating children at a young age.
The edition also featured a grisly photograph of what appeared to be bloody, decapitated heads arranged on a row of corpses with another photo of what looked like the beheading of a man.