---
Restless on the Bosphorus …..
Pictured: Rocket which smashed into office of Turkish President Erdogan's party minutes after failed attack on police HQ where ISIS massacre suspect detained
National police headquarters and office of AKP Party targeted 
Officials have confirmed that no one was hurt in the attacks
Banned far-left group the Revolutionary People's Liberation Army-Front, or DHKP-C, has been blamed
A large-scale police operation was launched after it happened 
Massacre suspect Abdulgadir Masharipov was being held inside the building
Abdulgadir Masharipov, the alleged nightclub killer, was being held in the building
A large-scale police operation is underway in Istanbul after two rocket attacks.
Militants fired a missile at the police headquarters – where the ISIS suspect accused of killing 39 in a New Year's nightclub attack is detained – but missed the target.
A second rocket pierced the wall of an office belonging to the ruling Justice and Development Party (AKP) party, piercing the wall, but it did not explode.
Bomb disposal experts were called to the AKP building, reports in Turkey state.
The AKP is the party of Turkish President Recep Tayyip Erdoğan.
The country is currently in a State of Emergency, which was extended for a further three months at the start of the year, following a failed coup in July last year.
There were no casualties in either attack, officials have confirmed, and pictures have emerged of both rockets.
NOTE: The top photograph reminds me of the stick I threw into the window of my summer cottage.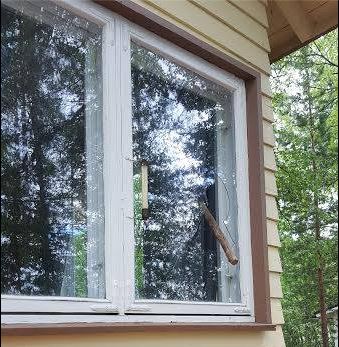 No other casualties, but my dog sure got the last laugh…..