---
Dr.Manfred Gerstenfeld's new article Antisemitism in the Labour Party and elsewhere in Great Britain. It was first published in Israel National News and republished here with the author's consent.
ANTISEMITISM IN THE LABOUR PARTY AND ELSEWHERE IN GREAT BRITAIN
Manfred Gerstenfeld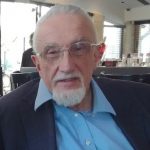 The antisemitism problems of the British Labour party are far from over. Issues concerning antisemitism have continued to pop up recently, yet not with the intensity of the half year before. They may well continue to appear as long as Jeremy Corbyn remains its party leader.
The Home Select Affairs Committee of the House of Commons largely summed the situation up in a report published on October 16, 2016. It was highly critical of developments of antisemitism in the Labour Party.1 It also stated that Corbyn has not done enough to combat anti-Semitism in the party.2 Conservative Prime Minster Theresa May has as well attacked Corbyn and Labour for ignoring the antisemitism in the party.3
With incitement in Labour somewhat less in the headlines, the main development concerning antisemitism in the UK was elsewhere. When testifying before the Home Select Affairs Committee, Jonathan Arkush, the head of the Board of Deputies of British Jews pointed out the usefulness of the International Holocaust Remembrance Alliance (IHRA) definition of antisemitism.4
Prime Minister May has since announced that the British government was adopting the IHRA definition of antisemitism. It is to be used by the police, councils, universities and public bodies, to help those bodies decide if an incident is antisemitic or not.5 UK police forces already use it for this purpose.6 The British government decision to use the definition domestically has hopefully created a precedent to be followed by other countries.
In the past months Corbyn went on to send contradictory messages. He said via a spokesman that "language or behavior that displays hatred towards Jews is antisemitism, and is as repugnant and unacceptable as any other form of racism" 7 The position of the Labour Party has been to welcome the adoption of the IHRA definition.8 Yet, during the same period he legitimized a person who holds antisemitic views, Dr. Hatem Bazian, founder of Students for Justice in Palestine. In December, Corbyn attended an event sponsored by the anti-Israel hate group Islamic Human Rights Commission – a launch of a book by Dr. Bazian.9
Around this same time, during a visit to the Czech Republic in the beginning of December, Corbyn visited the Terezin (Theresienstadt) concentration camp, where well over 100,000 Jews had been interned, many of which had been sent from there to their deaths in Auschwitz-Birkenau.10
In April 2016, Israeli opposition leader, Isaac Herzog, of the Zionist Union, had invited Corbyn to visit Yad Vashem, which the Labour leader declined.11 In November, as he had promised, Corbyn sent Deputy Labour Leader Tom Watson with a party delegation in his stead.12 It included a Jewish MP, Ruth Smeeth, who has been in the news after receiving 25,000 abusive messages.13 Later that month Watson attended the Labour Friends of Israel Lunch and sang "Am Yisrael Chai."14
After the Labour delegation trip, Herzog once again encouraged Corbyn to visit Israel and Yad Vashem.15 When Herzog visited the UK, also in November, according to Corbyn's office he was unable able to find time in his schedule to meet with the UK Labour leader.16
Labour MP Naz Shah had been suspended in April 2016 after it came out that she had suggested that Israel should be relocated to the United States.17 She then apologized a number of times to the Jewish community for her antisemitic tweets. Shah was reinstated by the party in July.18 Yet in December she attended an event put on by the extremist Muslim Engagement and Development (MEND) organization.19 She was criticized by Conservative MP Sir Eric Pickles as "having taken a tremendous step backwards."20
Luciana Berger, a Jewish Labour MP for Liverpool Wavertree, who had received thousands of hate emails and tweets, testified at the trial of Joshua Bonehill-Paine. This far right nationalist with reported links to the neo-Nazi National Action Group, was convicted for sending a number of those threats.21 As a result of a number of antisemitic incidents and attacks, including the targeting of MP Luciana Berger and lauding of Thomas Mair, who murdered MP Jo Cox, National Action has been classified as a terrorist organization by the Home Secretary.22
Other developments concerned the left wing Momentum Group, which has as its main purpose to strengthen Corbyn's position in Labour. The group's former vice chair Jackie Walker, was removed from her position after making remarks that were considered antisemitic at a training on antisemitism. She spoke at a Palestine Solidarity Campaign church event where she described Israeli Hasbara as a "black-ops group" that "go out perverting, undermining, destroying people like me."23
She has since written an article in Al-Jazeera trying to explain her position as anti-Zionist but not antisemitic, where she states, "Opposition to a Jewish State is, and remains a legitimate, honorable political position, and one that many, including many Jews, have stood by for decades."24 The IHRA definition states that it it antisemitic to deny "the Jewish people their right to self-determination," which is what Waker does.
Walker has also been elected onto the Conference Arrangements Committee, which will organize Momentum's first full conference which is set to take place early this year.25 Momentum co-founder and chair, Jon Lansman, who is Jewish, spoke at the Limmud Conference on Jewish education on a panel debate about the Labour Party's relationship with the Jewish community. During this panel discussion he said that Labour's antisemitism issue has been "exaggerated."26
Beyond Labour there were other severe negative developments as well. A month long survey conducted by Stamford Hill Shomrim and published October 2016, found that on average an antisemitic incident occurs every day in the Stamford Hill neighborhood of London, with victims including children as young as eight and young mothers with babies.27
In November, after the London soccer club Chelsea beat rival Tottenham, Chelsea football fans were filmed singing antisemitic chants on the London tube, "I've got foreskin, how about you? F****** Jew."28 Also in November, vegan protesters stormed a Kosher slaughterhouse and graffitied the walls with Jewish symbols and the words "Kosher Holocaust."29
Yet another area in Great Britain where antisemitism flourishes is in a number of universities. That, however, should be described and analyzed separately.
Footnotes: