---
Former Finnish president Tarja Halonen (SDP) dissembles, big time…
All three received their medals from Tarja Halonen, who defended the awards to IS by noting that they are part and parcel of state visits, and that 'it would be a big thing if we didn't give an award'. She also argued that "the medals are not given for human rights accomplishments, but for diplomacy and international co-operation."
Well, here's a screen capture of the Wikipedia site linked to by the state broadcaster YLE: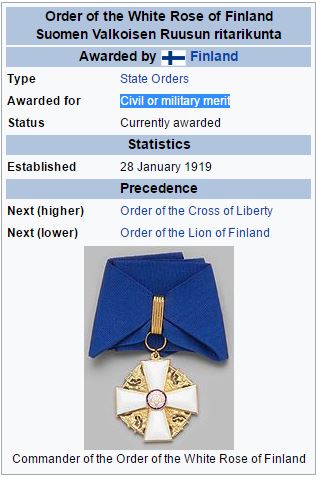 There's no mention of diplomacy or international co-operation on the website. Also worth noting, the Wikipedia site linked to by the YLE article (in English) omits Assad's receiving of the White Rose, which was the top award out of ten given "Grand Cross of the White Rose of Finland with Collar". However Bashar Assad is noted as receiving it in the Finnish version of the site. Did Wikipedia do this on purpose, or is it just human error?
Honours for foreign leaders are always a delicate matter for governments, and Finland is no different. Medal diplomacy can give ammunition to political opponents at home, but also grease the wheels of international deal-making, and so a balance must be struck. Tuesday's Ilta-Sanomat looks at some recently declassified information on medals handed out to foreign dignitaries since 1994, when Martti Ahtisaari became President.
It's a long list and includes a fair few unsavoury characters who have received the Order of the White Rose of Finland, one of the country's three merits. Syrian strongman Bashar al-Assad is in there, as is the king of Saudi Arabia Abdullah bin Abdulaziz al-Saud and Kazakh president Nursultan Nazarbayev, who has ruled his country since independence in 1991.
All three received their medals from Tarja Halonen, who defended the awards to IS by noting that they are part and parcel of state visits, and that 'it would be a big thing if we didn't give an award'. She also argued that the medals are not given for human rights accomplishments, but for diplomacy and international co-operation.
Even so, IS managed to dig out comments Halonen made as Foreign Minister in 1998, when she criticised President Martti Ahtisaari for giving medals to Indonesia's Forestry Minister and to businessmen who had done deals with Finnish companies. At that time, two years before she was elected president, Halonen had told Vasabladet that she wanted an honours system that reflected the country's political, democratic and human rights outlook.