---
A good friend who happens to be a Turkish citizen sends me the following:
The Grand National Assembly of Turkey has just passed Erdogan's constitutional change package with over 330 votes for, making it possible to hold a referendum on it. It is an importing moment signalling the Turkish Parliament created in 1919 by Ataturk losing all of its dignity, since it has surrendered almost all powers of itself to the Presidency, namely Erdogan. Those deputies who accepted it are directly guilty for destroying the remaining pieces of the republican values of Turkey, hand in hand with President Erdogan. 

Erdogan: "Finally, the people's will will be ruling over Turkey, not the unrealistic ideologies of an outdated system which had to be replaced long time ago. [of Mustafa Kemal Ataturk, without naming]" Secular Republic declared in 1923, outdated??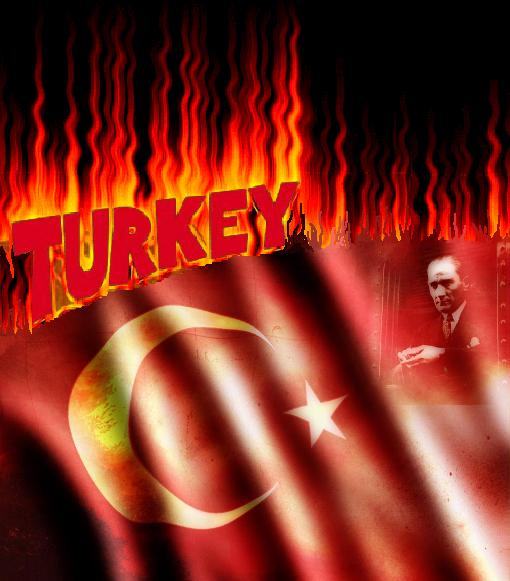 Turkish Parliament to finalize charter talks this week
ANKARA
Turkey's parliament will conclude its work on a government-led charter draft this week, paving the way for a possible referendum.
The first round of talks on the amendments, which will convert the country's current parliamentary system into a presidential one, was expected to end late on Jan. 15. The second round, which consists merely of the voting on the articles and the draft as a whole, will be held at least 48 hours after the first round is concluded, with expectations that it will be held on Jan. 18.
If at least 330 of the 550 lawmakers approve the articles, the changes will be posed to the public in a referendum. Any article that remains below the 330 vote threshold in the second round will be left out of the package, regardless of the result of the first round vote.
Parliament had a long night on Jan. 14, starting its session at around 2 p.m. and concluding it at 6 a.m. on the morning of Jan. 15.
In the session, five more articles of the package were approved, bringing the total number of approved articles to 16.
The remaining two articles of the 18-article package were expected to be approved late on Jan. 15.
Among the articles approved on the morning of Jan. 15 were those addressing structural reforms in the nation's highest judicial body, regulations of the annual budget and a new government system.
Turkey's Supreme Council of Judges and Prosecutors (HSYK), which currently has 22 regular and 12 substitute members, will have just 13 members in the new system approved by the lawmakers.
The new body will be renamed the Judges and Prosecutors' Council, and will be chaired by the justice minister.