---
Looking after its own self interests, that of the people's, that's what nation states are for.
The EU is evil..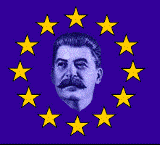 EU IN TURMOIL: Slovenia REVOLTS against Brussels and vows to TOUGHEN UP immigration rules
BRUSSELS bureaucrats are facing yet another rebellion after Slovenia vowed to go against the crumbling bloc and toughen up it's immigration stance.
Thorbjørn Jagland, the Secretary-General of the Council of Europe, told Slovenian government officials they need to "amend their approaches" after new plans were approved to try to manage the country's growing migrant population.
In a letter to Slovenia's prime minister Miro Cerar, Ragland wrote: "I am concerned by amendments… proposed by your government which, if adopted, will change the conditions of entry and expulsion of migrants and asylum seekers into Slovenia, raising a number of issues under European Convention on Human Rights."
He urged the country to ensure national reforms "uphold important human rights guarantees", although he conceded it was "understandable" that ministers want to adopt a new approach to dealing with the influx of asylum seekers.
Last week, the Slovenian government approved amendments to asylum laws that would help the country regain some control of their borders.