---
Of course they did, regardless of their supposed 'secular' credentials, they fully know their Islamic texts….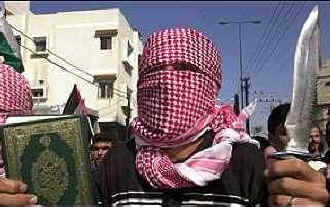 NOTE: The four cadets weren't killed but murdered, and the PA would never have called them terrorists, so it's  somewhat of an oddball headline PMW is running here. Hopefully it's corrected, they do fantastic work.
PA: Terrorist who killed four in truck ramming attack died for Allah
Official PA media grants terrorist supreme Islamic honor calling him a Shahid – "a Martyr who died for Allah"
PA will pay terrorist's wife 2900 shekels ($760) monthly for life
Abbas did not condemn the terror attack
PFLP: "Blesses" and "congratulates" the Palestinians over "the Jerusalem operation"
DFLP: Truck ramming attack is "part of the Palestinian resistance… a legal right anchored in international law and all the resolutions of the international bodies"
DFLP: "Turn this intifada of the young people into a comprehensive popular intifada that will include all sectors of the society"
Itamar Marcus and Nan Jacques Zilberdik
On Sunday, a Palestinian terrorist drove his truck into a group of Israeli soldiers participating in an education study tour in Jerusalem, murdering 4 and wounding at least 15.
Attack is sanctioned by Islam
The official PA daily referred to it as "a car ramming operation" and wrote that the killer "died as a Shahid" (i.e., a Martyr who died for Allah). By calling the terrorist murderer a Shahid, the PA is telling its people that murdering the Israeli youths was sanctioned by Islam and seen as positive Islamic behavior.
PA TV went out of its way to focus on the religious value of the terror attack by using the term "Shahid" 7 times, mostly as a replacement for the terrorist's name: "The Shahid executed the attack," "The Shahid's home," "The Shahid's sister," "The Shahid's parents home." In contrast, the terrorist's name was only mentioned twice, both times informing that he became a Shahid. [Official PA TV, Jan. 8, 2017]
PA will pay terrorist's wife 2900 shekels ($760) monthly
According to its fundamental policy of supporting all Palestinian terror, the PA will reward the terrorist's wife with a lifetime monthly allowance. According to PA law, the family of a Shahid receives a base payment of 1400 shekels per month. A wife of the Shahid receives an additional 400 shekels, for each child she receives 200 shekels, and for being a resident of Jerusalem an additional 300 shekels. In total the wife of this murderer will receive 2900 shekels ($760) per month for the rest of her life. In addition, within the next few months, she will receive a one-time grant of 6000 shekels ($1580).