Islam, in all of its components, is sedition against the state/the civil society……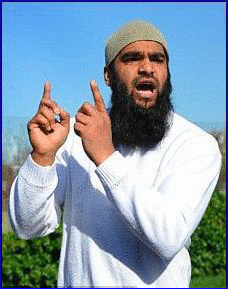 I think that more and more, a strong case is being built against Islam, and against any other totalitarian based ideology that seeks to impose its will upon the greater society, that it should be, if not outlawed entirely, then extremely marginalized. What I mean about being marginalized, it's that its practitioners are still free to believe in, and practice it, but that society as a whole are free to discriminate against them for doing so.
Muslim group to SUE Germany over Quran ban after being accused of recruiting ISIS jihadist
THE HEAD of a German organisation has lashed out against a ban prohibiting members from distributing copies of the Quran after authorities accused it of recruiting jihadists to fight with Islamic State (ISIS).
GETTY
True Religion was set up by preacher Ibrahim Abou Nagie in 2005
The group, which calls itself True Religion (DWR), began distributing free copies and translations of the Islamic religious book alongside the slogan 'LIES' in 2011, but have been active for as long as 11 years.

Set up by Palestinian-preacher Ibrahim Abou Nagie, the organisation advocates a return to the "true Islam" and members have been recorded publicly denouncing democracy as the enemy to Islamic values.

But four weeks ago, the group was banned by German interior minister Thomas de Maiziere after he accused the organisation of radicalising young members .
The group began handing out free copies of the Quran in 2011
True Religion has not been accused of any links to terrorism in Germany or on European soil.

But it has faced allegations that it has deliberately set out to radicalise young German men and women, and encourage them to travel to Syria and Iraq to join ISIS and other extreme jihadist groups.

As many as 140 youths have already left for the Middle East to join the extremists after becoming involved with True Religion, according to the interior minister.