Boycott the miscreant(s) malcontent(s)……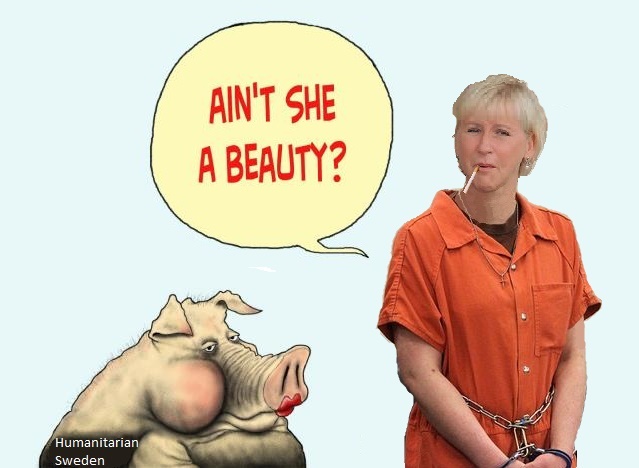 Sweden has always been a svinhufvud vis-a-vis the Jewish state of Israel for most of its existence. Former Swedish FM, Laila Freivalds was notoriously anti-Israel as well. Gideon Meir (Deputy Director-General for media and public affairs in the Israeli Foreign Ministry), told a story about her while he was visiting Helsinki some years ago. Freivalds marched into his Jerusalem office all red in the face (very undiplomatic like) shouting about Israel's security fence, telling him /Israel what they can't do. He quietly reached into his desk drawer and took out a photo of the daughter of his secretary who was blown up by a murderous suicide bomber. He asked her: "if we are not allowed to build/maintain our anti-terror security fence, what am I to say to this dear girl's mother and to others like her?" Laila Freivalds replied, "that's none of my concern".
NOTE: Swedish government officials and most politicians there (outside that of the Sweden Democrats) are radical, llunatic nut-jobs, from the far-Left to the neo-statist right.
Report: Israel boycotting Swedish Foreign Minister
Swedish Foreign Minister Margot Wallstrom, known for her anti-Israel statements, is visiting the region but will not meet Israeli officials.
Elad Benari,
13/12/16 06:13
Israel is boycotting Swedish Foreign Minister Margot Wallstrom's upcoming visit to Israel due to her past anti-Israel statements, the Yedioth Ahronoth newspaper reported on Monday.
According to the report, Wallstrom will arrive in the region on Thursday, but will not meet Prime Minister Binyamin Netanyahu, who also serves as Foreign Minister, or any other Israeli minister.
The Swedish Minister reportedly sought to hold meetings with Netanyahu and other Cabinet ministers during her visit, and was told that their schedules do not allow for such meetings. Sources, however, told Yedioth Ahronoth that Wallstrom in fact is not welcomed in Israel.
The newspaper noted that, despite not having meetings scheduled with Israeli officials, the Swedish Foreign Minister decided to visit the region anyway and meet with Palestinian Authority (PA) officials.
Wallstrom has several times in the past caused an uproar in Israel with her statements. In 2014, then-Foreign Minister Avigdor Liberman denounced Sweden's decision to recognize the PA as "the State of Palestine", saying that "relations in the Middle East are a lot more complex than the self-assembly furniture of IKEA".