I agree with Benny Weinthal, this is in fact huge news……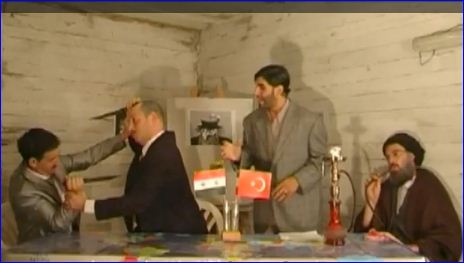 Iranian-made drone involved in attack on Turkish soldiers in Syria
Sevil Erkuş – ANKARA
An Iranian-made unmanned drone was used in an attack on a Turkish military camp in northern Syria on Nov. 24, killing four soldiers, a senior Turkish official has told the Hürriyet Daily News.
Turkey identified the drone as Iranian-made, but it was still not identified whether Hezbollah, the Quds Force or another Shiite militia group in Syria had used it, said the official, who spoke on anonymity.
FM Mevlüt Çavuşoğlu, accompanied by National Intelligence Agency (MİT) Chief Hakan Fidan, paid a surprise visit to Tehran early on Nov. 26, where the Turkish delegation discussed "issues regarding ISIL and counter-terrorism" with Iran and also raised the issue that their findings on the attack on Turkish soldiers in Syria indicated that an Iranian-made unmanned drone was used, the official also said.
However, Çavuşoğlu denied that they discussed the aerial attack in the meeting in Tehran. "Our visit to Tehran had nothing to do with the plane. We went there for a fourth round of discussions that aimed to find ways to precede peace in Syria. We discussed how a cease-fire could be reached, to send humanitarian aid and the necessary steps needed to be taken if there is a cease-fire. But it was not about the drone," daily Habertürk quoted Çavuşoğlu as saying on Dec. 6.

Syrian Army does not possess drones: Russia
In a phone call between President Recep Tayyip Erdoğan and Russian President Vladimir Putin on Nov. 26, the second conversation between the two leaders in 26 hours, Russiansources told the Hürriyet Daily News that "both parties have reached a consensus that the attack was carried out by an unmanned drone."
Moscow informed Ankara that the drone did not belong to them, and the Syrian Army did not possess such an aircraft. The U.S.-led coalition forces also informed Moscow that the drone did not belong to them either, sources added.
"It's not clear whom the drone belongs to," the source said, adding that both presidents agreed that their military officials would work to the reveal the origins of the aircraft.