Even though he dissed the Islamic State, he ends up validating ancient texts that Islamic State relies upon in carrying out the most horrific acts in the Middle east.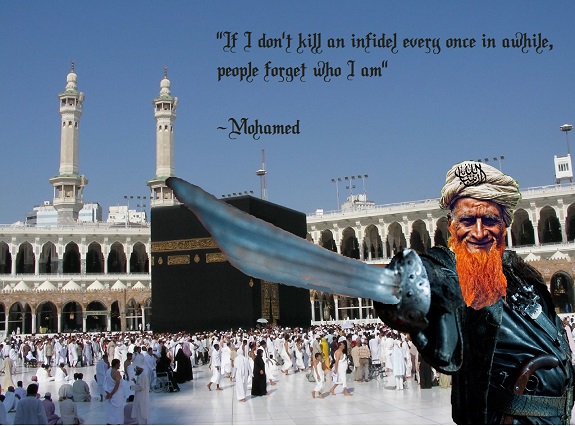 NOTE: This thoroughly quashes the bull crap meme of Mohamed Zuhdi Jasser's, that he hold the keys to reforming Islam. He clearly doesn't.
TOP MUSLIM UNIVERSITY REJECTS REFORM, STANDS BY 'TERRORIST CURRICULUM'
Al Azhar refuses to stop using radical texts used by ISIS.
December 1, 2016
Raymond Ibrahim is a Shillman Fellow at the David Horowitz Freedom Center.
Much of the curriculum of Al Azhar—the Islamic world's most prestigious university, located in Cairo—is based on Islamic books written in the medieval era or earlier.  These books—histories, biographies of Muhammad, hadith (words and deeds of the latter), tafsirs (Koran exegeses), etc.—are often criticized by more reform-minded Muslims for being too backwards, teaching things such as unrelenting jihad and hatred for non-Muslims.
During a recent televised interview, Sheikh Ahmed al-Tayeb, Egypt's highest authority on Islam and Grand Imam of Al Azhar, was asked about his university's reliance on these books.  His responses left many reformers disappointed.
Tayeb insisted that all books used by Al Azhar are fine: "Our heritage books are innocent and being abused by those ignorant or indecent among us—and that's all they can be: either ignorant or indecent."
Settling the question in such black and white terms completely overlooks the fact that many of these books are indeed loaded with problematic teachings.  It is from these books—in this case, one of the histories of the prophet—that ISIS justifies burning people alive.
He continued his apologia: "Some say, do away with the other, ancillary books of Al Azhar.  Okay, but then how can I understand the Koran and Sunna?"  He explained that if Al Azhar got rid of the other books, every Muslim would be free to interpret the Koran any which way they want—claiming that that's what ISIS does.  Tayeb even attacked using one's brain, or reason, to understand the Koran, claiming again that that is what ISIS does.
This was another strange assertion: it is ISIS that most criticizes the free use of the brain, and insists on slavishly following the teachings of those ancillary books—which teach anything from eating the flesh of infidel captives to selling women and children on slave markets.
But the most telling portion of the interview came when Al Azhar's Grand Imam said:
When they [reformers] say that Al Azhar must change the religious discourse, change the religious discourse, this too is, I mean, I don't know—a new windmill that just appeared, this "change religious discourse"—what change religious discourse?  Al Azhar doesn't change religious discourse—Al Azhar proclaims the true religious discourse, which we learned from our elders.
More here. H/T: Sheik Yer'Mami (pbuh)