Which is actually non-existent……..
They advised on containing Iran, not invading Iraq, and fail miserably in curtailing weapons sold to its mortal enemies.
IPT Exclusive: In Private Fundraiser, Ellison Blasted Israeli Influence Over U.S. Policy
by Steven Emerson
IPT News
November 29, 2016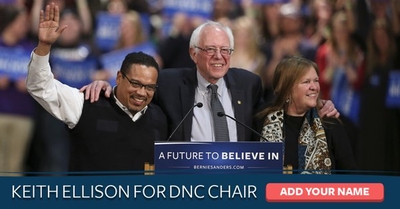 U.S. Rep. Keith Ellison's announcement earlier this month that he wants to be the Democratic National Committee's next chairman drew quick support from several key lawmakers, including Jewish senators Chuck Schumer and Bernie Sanders.
Ellison backers also have defended him against claims he may hold anti-Semitic views in addition to being anti-Israel. A column in Israel's liberal daily Haaretz quotes two rabbis praising Ellison, D-Minn., as "the best of our constitutional democracy and the best of America" and "an extraordinary leader. Anyone who would associate him with any kind of hatred hasn't met him and certainly hasn't worked with him."
A 2010 audio of Ellison speaking at a private fundraiser obtained by the Investigative Project on Terrorism calls such praise into question. In a fairly intimate setting, Ellison lashed out at what he sees as Israel's disproportionate influence in American foreign policy. That will change, he promised, as more Muslims gained political influence:
"The United States foreign policy in the Middle East is governed by what is good or bad through a country of 7 million people. A region of 350 million all turns on a country of 7 million. Does that make sense? Is that logic? Right? When the Americans who trace their roots back to those 350 million get involved, everything changes. Can I say that again?"