The Left NEVER gives up, that's why neither should you…….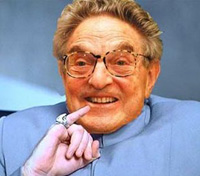 They already own the federal bureaucracy/US government, which is synonymous with the DNC. They've got lots of power, but are acting like they haven't anything at all. That's how they work. Radical nut-jobs need to be opposed every step of the way…they're relentless, and if anyone thinks that DJT can reverse everything himself….they're badly mistaken, we need Article V movement to reign in the Feds through the amendment process.
Soros bands with donors to resist Trump, 'take back power'
Major liberal funders huddle behind closed doors with Pelosi, Warren, Ellison, and union bosses to lick wounds, retrench.