They will eventually have to deal with him, better not start off on the wrong foot…
Just keep this pecker head away from any deal making, a real loser.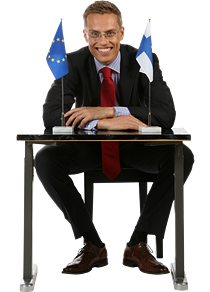 Soini: Europe should strike a deal with Trump
Finnish Foreign Minister Timo Soini told Yle that he does not believe that the election of Donald Trump will bring major changes to the relationship between the United States and Europe. He does think, though, that the EU should continue to actively engage with the US while waiting for Trump to take office in January.
European Union foreign ministers gathered in Brussels Sunday to discuss the implications of Trump's victory in the US presidential election.
"I said there, out loud, that since Trump is a dealmaker, then we should show [him] that Europe is a good deal. It's no more complicated than that," Timo Soini told Yle on Sunday evening.
The EU's foreign ministers are holding a formal gathering on Monday. Sunday's talks took place during a dinner in Brussels.
"This was a discussion, not a crisis meeting," Soini added.
According to Foreign Minister Soini, the EU should stress to the Americans that there is a natural partnership between the US and the European Union focused on free trade, security and common values.