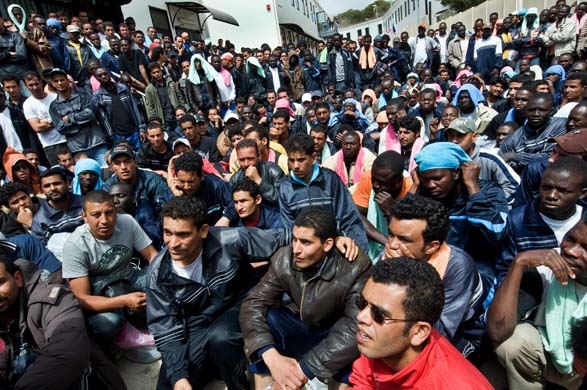 Europe's Planned Migrant Revolution
by Yves Mamou

https://www.gatestoneinstitute.org/9183/europe-migrant-revolution
Between 2005 to 2014, Germany welcomed more than 6,000,000 people.
Two essential questions about integration must be put on the table: 1) What do we ask of newcomers? And 2) What do we do to those who do not accept our conditions? In Europe, these two questions of integration were never asked of anyone.

In the new migrant order, the host population is invited to make room for the newcomer and bear the burden not of what is an "integration," but the acceptance of a coerced coexistence.

"No privileges are granted to the Europeans or to their heritage. All cultures have the same citizenship. There is no recognition of a substantial European culture that it might be useful to preserve." — Michèle Tribalat, sociologist and demographer.
"We need people that we welcome to love France." — French Archbishop Pontier, Le Monde, October 2016.
When "good feelings" did not work, however, the authorities have often criminalized and prosecuted anti-immigration critics. The Dutch politician Geert Wilders is currently on trial for trying to defend his country from Moroccan immigrants whose skyrocketing crime wave has been transforming the Netherlands.
Everyone now knows — even German Chancellor Angela Merkel — that she committed a political mistake in opening the doors of her country to more than a million migrants from the the Middle East, Africa and Asia. It was, politically, a triple mistake:
Merkel may have thought that humanitarian motives (the war in Syria and Iraq, the refugee problem) could help Germany openly pursue a migration policy that was initially launched and conducted in the shadows.
Merkel mainly helped to accelerate the defense mechanisms against the transformation of German society and culture into a "multicultural" space — the "multi" being a segregated, Islamic way of life. The anti-immigration party Alternative for Germany (AfD) is now a big player on the German political scene.
Merkel raised anxiety all over Europe about the migrant problem. She might even have encouraged the United Kingdom to Brexit and pushed central European countries such as Hungary to the point of seceding from the European Union.
For many years, Germany was the country in Europe most open to immigration. According to Eurostat, the official data body of the European Union, between 2005 to 2014, Germany welcomed more than 6 million people. [1]