One woman's brush with Sharia courts in the UK: "It ruined my life forever"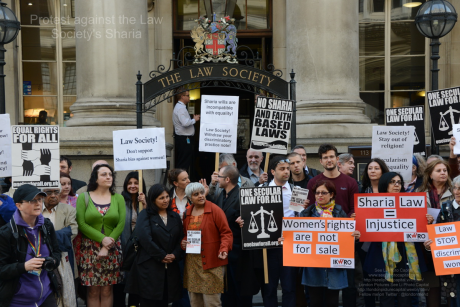 RAHILA GUPTA 7 November 2016
"My daughter and I appeared before the Sharia court at Regent's Park mosque in London. They were not interested in anything we had to say, the whole process was shocking."
Protest in London against the Law Society's guidance on Sharia Wills April 2014. Photo: Wikimedia Commons/See Li
The UK government is conducting an inquiry into the operation of Sharia courts which is being boycotted by a number of women's organisations because its remit is too narrow, and the panel of judges is not seen as 'independent' enough.
Parallel to this, the Home Affairs Committee has also launched an inquiry into whether the principles of Sharia are compatible with British law.
On 7 November, there will be a public seminar on "Sharia Law, Legal Pluralism and Access to Justice" 7-9pm at Committee Room 12 at the Houses of Parliament. Below, we publish the story of a woman Shagufta (not her real name) who spoke to the campaign group, One Law for All, and described how a brush with the Sharia courts ruined her life forever.
I am a practising Muslim. My faith is central to who I am. I was born in 1947 in Pakistan and joined my husband in the UK in 1965. I am from a middle-class Pakistani family and found life in England hard. It was a huge culture shock. We settled in the north of England. I supported my husband with his business interests and eventually had my own business running a cookery school and a halal food company. I had six daughters and a son..