Ya think?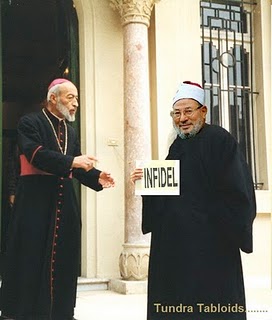 Here's a shocker for the archbishop, It's always been that way, even in Spain during the 400 years of Islamonazi rule.
The fact that the Coptic Christian Zabaleen community of Cairo offer one bright spot about being in the trash trade, it keeps themselves/families from being molested by the Muslims, has got to tell you something about what it's like being a non-Muslim in an Islamic country.
Welby attacks Arab hostility to Christians: Archbishop says freedom granted to religions in Britain is not matched in the Middle East
Archbishop of Canterbury says Christians being persecuted in Middle East
Said treatment of Christians abroad doesn't match UK Muslims' treatment
Wants 'freedom of religion' to be a 'give' in societies across the world
Was speaking at a gathering of Islamic and Christian leaders in Abu Dhabi
The Archbishop of Canterbury the Most Reverend Justin Welby, pictured, claims Christians are being subjected to 'intolerable' persecution in the Middle East
The Archbishop of Canterbury complained yesterday that the freedom granted to Muslims in Britain is not matched by the treatment of Christians in the Middle East.
The Most Reverend Justin Welby made his criticism of attitudes in 'significant parts' of the Middle East in a speech in which he said persecution of Christians is 'intolerable'.
His address given to a gathering of Islamic and Christian leaders in Abu Dhabi is the Archbishop's most notable attack on the suppression of Christianity and attacks on Christians in some Muslim-dominated countries.
His remarks about the behaviour of intolerant powers in the Middle East are the strongest in their implied criticism of Islamic attitudes from Lambeth Palace in more than a decade.
The Archbishop told his audience: 'The increasing integration of Muslim communities within British society, in which we rejoice, is in stark contrast to the increasing marginalisation of and outright hostility to Christian communities within many parts of the world, not least in significant parts of the Middle East.'
He called for 'serious progress' to make freedom of religion and belief 'a given in the societies and countries we represent and live in.'
Archbishop Welby condemned persecution of Christians in the Middle East.
Christians, he said, have 'recently been on the receiving end of persecution both from militantly atheist and religiously intolerant regimes'.