I wonder if Radinet's Algerian born project coordinator, Oussama Yousfi, rejects post-hijra Islam, or is he just another duplicitous Muslim Brotherhood type using the host nation's "good faith/benefit of the doubt" ethic against themselves? 
NOTE: Oussama Yousfi is on the left, the guy on the right is the Kurd, Muhammad Azzizi who participated/orchestrated the demo in front of the Norwegian embassy in Helsinki over the burning of a koran by two apostate Kurds. His sign reads:
"Freedom of speech doesn't give right to defame another's religion".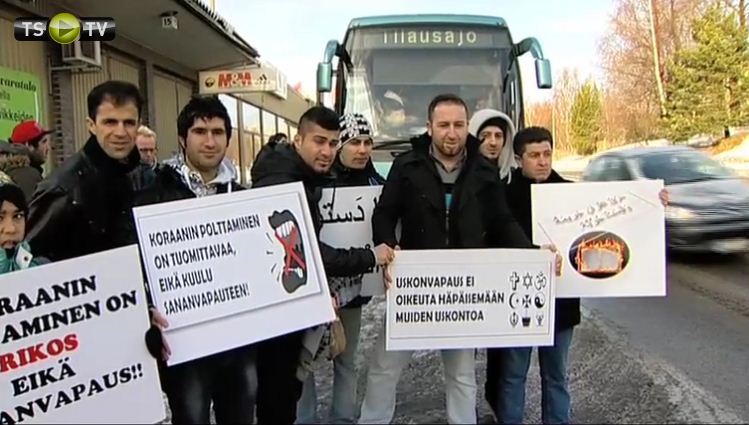 Here's the "anti-radicalization" project coordinator/anti-Israel bigot on Facebook liking a BDS video advocating the boycott of Israeli dates.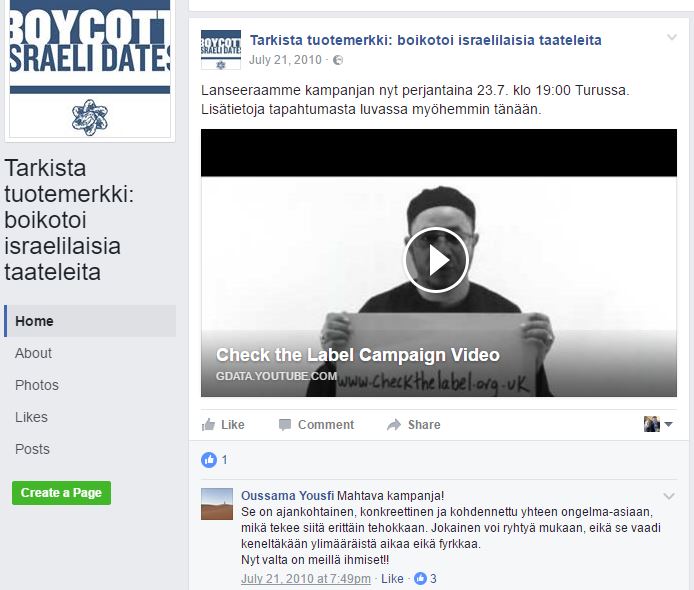 Translation:
Oussama Yousfi:  A great campaign!
It's timely, concrete and targeting a single-issue problem, which makes it very effective. Everyone can join in, and does not require extra time and money from anyone.
Now we have the power people !!
At the Finnish Christian magazine Valomerkki highlighting his work on "de-radicalization", the following is stated:
Who then spread radical ideas? According to SUPO Pekka Hiltunen, Mosques are mostly not a problem.

– Mosques are open spaces. It's risky for a recruiter to get them to submit to their radical opinions. It is good to note that a number of mosque have also spoken against these things.

Oussama Yousfi is of the same opinion. He has visited many mosques and have not come across any violent fundamentalism in any of them. Also according to Yousfin, many mosques are already doing preventive work. However, this is more like helping out a friend than systematic activities.

– Those people who visit mosques, are in contact with other people. They have a certain balance, Yousfi explains.
What this tells me however, is that highly ignorant officials are incapable of knowing when they're being played. Over at MEFORUM, both Mordechai Kedar and David Yerushalmi show that the more US mosques are highly sharia compliant, the more likely they're exposing their members to violent textual Islamic dictates.
Methodology

Sampling: The survey analyzed data collected from a random sample of 100 mosques. This sample size provided sufficient statistical power to find a statistically significant association between most of the selected Shari'a-adherent behaviors and violence-positive variables. Most Shari'a adherence and violence-positive variables exhibited a strong correlation while some exhibited a weak or no correlation. A sample size of 100 mosques also allowed the survey to extrapolate to all mosques in the United States at a 95 percent confidence interval with a margin of error of +/-9.6 percent.
So the problem here is not IS recruiters getting them radicalized, the seeds have already been sown, intentionally or not. The recruiters just need to brush up among those whom they believe appear most likely to listen to their reasoned argumentation. In the UK, the situation is the same, the more sharia compliant they are, the more likely they're to focus on violent Islamic texts.
The way mosque leaders respond in public to acts of jihad inspired violence are usually couched in ambiguous terms, "this does not represent Islamic values", or "we're against the killing of innocents". But what they actually mean by them is another thing entirely.
Due to our (The West) notions of fair play, honesty, human rights and protection of minorities, people like the Algerian, Oussama Yousfi can play a dual game rather successfully. In my opinion, this is about damage control for Islam, as well as keeping law enforcement off balance in trying to shift their attention away from classical canonical Islamic texts underwriting jihad against the infidel.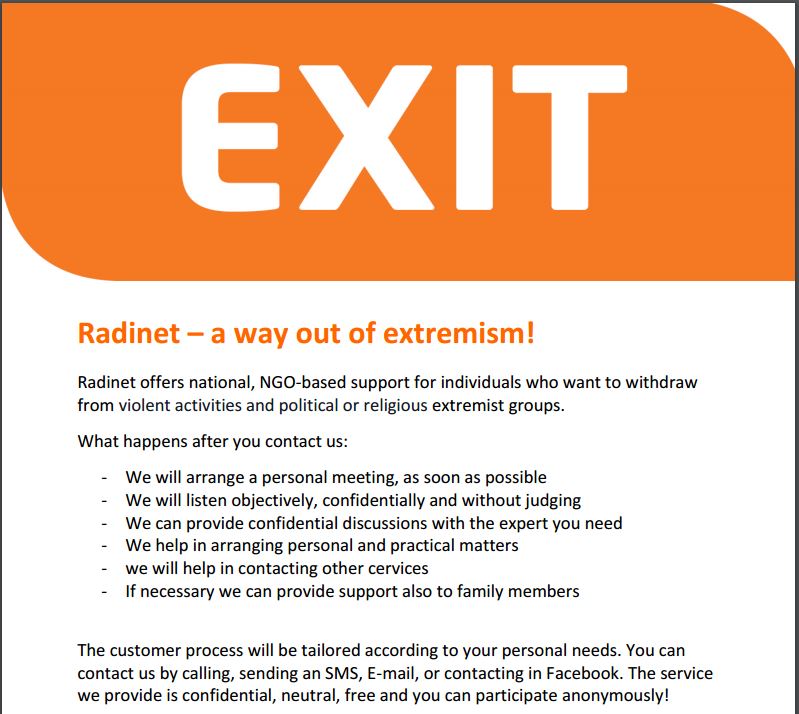 That Oussama Yousfi is a anti-Israel bigot (who more than likely agrees with post-hijra antisemtic verses….makes those Finns who swallow his anti-radicalization BS…….fools. He's not against radicalization in the Western sense of the word, he's the official damage control coordinator, and polisher of Islam's image in Finland. That he's getting money from the state for his "humanitarian efforts" is a joke.