While both are in the bag Hillary bots (you should see their crap on twitter)…real believers.
After the 3rd debate ace reporter Saska Saarikoski writes:
"Hillary Clinton did a hat trick, crushed Trump blow from blow"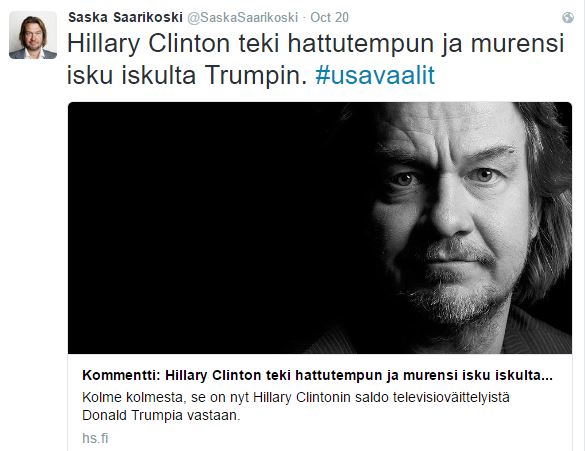 His wife Laura blocked me on Twitter for reminding her about rapist Bill's past, including impeachment, lying under oath, amassing 1/4 billion dollars from speaking engagements made possible by using her office as Sec-State as a slush fund for personal gain and pervert Bill's flaky foundation. No such book exploring their and the DNC's misdeeds, and what it has done to America will be forthcoming….no way.
NOTE: Well, when you're in the tank…..you're in the tank, and these miscreants are indeed in the tank, big time. Shame that Finland gets it news from these hacks.