Police with guard dogs should patrol back and forth in front of these islamonazis……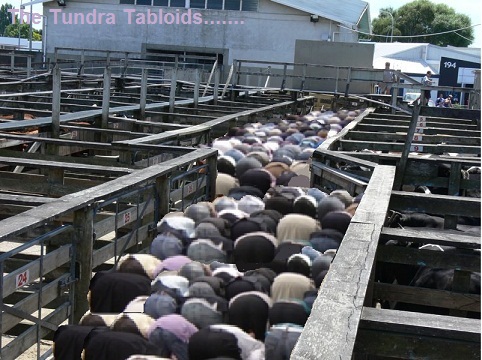 We all say that we have to identify the threat. Well, I think the one who identified it best was (President Recep Tayip) Erdogan from Turkey who said, 'Islam is Islam.' There are no modifiers. Democracy is the train we ride to our ultimate objective. He couldn't have said it any plainer. Until you recognize that Islam is a political movement masquerading as a religion, you're never going to come to grips with it.
Retired Navy Admiral James "Ace" Lyons
Thousands of Muslims protest on ancient streets of Rome as Italy SHUTS DOWN mosques
GETTY
Muslims prayed outside Rome's Colosseum to protest the closure of several mosques
FURIOUS Muslims prayed outside Rome's Colosseum to protest the closure of mosques in the capital city.
GETTY
Authorities in Rome recently closed down five makeshift mosques
During the protest prayer, worshippers knelt on mats metres away from the ancient amphitheatre.
An imam led the group in chants of "Allah Akbar" while they kneeled to the ground facing the Colosseum.
Many Muslims in the country believe local authorities are reacting to fear caused by recent terror attacks in Europe.
Italy does not recognise Islam as an official religion.
On top of this, many Muslims from North Africa and South Asia feel discriminated against on the grounds of both race and religion.