This is Dr.Gerstenfeld's latest article first published at Israel National News, and republished here with the author's consent.
REFOCUSING THE FIGHT AGAINST BDS ANTISEMITISM
Manfred Gerstenfeld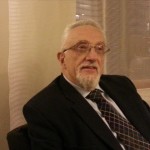 The battle against the Boycott Divestment and Sanctions Movement (BDS) is fought in a wide variety of ways. Yet the most direct argument is underrepresented: BDS activities which exclusively focus on Israel are in and of themselves anti-Semitic.
One only has to read the definition of anti-Semitism by the International Holocaust Remembrance Assembly to understand the anti-Semitic character of BDS.1 It cites specifically: "applying double standards by requiring of Israel a behavior not expected or demanded of any other democratic nation." The fact that BDS activities are usually aimed exclusively at Israel expresses such a double standard. The acceptance of the IHRA definition of anti-Semitism required the agreement of 31 democratic member countries. These include the United States, Canada and 24 members of the EU.
One inciter against Israel, the Canadian Jewish author Naomi Klein wrote "The best strategy to end the increasingly bloody occupation is for Israel to become the target of the kind of global movement that put an end to apartheid in South Africa." Klein added, "Why single out Israel when the United States, Britain and other Western countries do the same things in Iraq and Afghanistan?" Her answer was: "Boycott is not a dogma; it is a tactic. The reason the BDS strategy should be tried against Israel is practical: in a country so small and trade-dependent, it could actually work."2
Klein thus openly asserts that she promotes aggression against Israel in a way different from attacking any other democratic nation. Her statement is a text book example of IHRA-defined anti-Semitism. It singles out Israel for negative treatment in the same way classic anti-Semites apply double standards to Jews.
Dan Diker of the Jerusalem Center for Public Affairs concluded that the movement's goals go beyond expressing anti-Semitic attitudes. He states: "BDS is not meant merely to pressure Israel toward a two-state solution. Instead, BDS is being used as a platform to advocate ending Israel's existence as the nation-state of the Jewish people."3 This is indeed the goal of part of the BDS promoters.
The list of those promoting BDS against Israel, its suppliers or the settlements is long. In the United States these include organizations, academics, student councils and pension funds. Some examples are the student councils of seven out of ten University of California campuses. These have voted to divest from American companies that supposedly profit from the settlements, such as Caterpillar and Hewlett-Packard. The pension board of the United Methodist Church blacklisted Israel's five major banks which have branches in the settlements.4 The US Presbyterian Church passed a series of resolutions at its general assembly in support of BDS, and called on Israel to leave the territories.5 In an environment that promotes freedom of speech, these people seem to think that freedom to be anti-Semitic is included.
Over 70 American intellectuals and academics recently published an open letter calling for a "targeted boycott" of all Israeli settlements in the West Bank, as well as of products and services from the settlements.6 The American Studies Association, and the National Women's Studies Association have voted to boycott Israeli universities.7 Other American academic associations that have joined the boycott include the African Literature Association, the Association for Asian American Studies, the Critical Ethnic Studies Association, the Native American and Indigenous Studies Associations.8
Four professors of Pennsylvania State University and Rutgers University have sued the American Studies Association for its boycott of Israeli universities stating that they are in violation of Washington, D.C. law.9 In the United States, there are a series of anti-BDS bills under consideration in Congress and in over 20 state legislatures. Many of the state bills require the withdrawal of state funds, including pensions, from organizations that boycott Israel. Illinois and South Carolina have passed anti-BDS bills that include protection for settlements.10 New York Governor Andrew Cuomo signed into law Executive Order No. 157, disallowing state agencies and authorities to use public funds to support BDS campaigns against Israel.11 President Barack Obama signed a bill that penalizes the BDS campaign against Israel, but said he will not extend these protections to West Bank settlements.12
A number of European institutions as well have condemned BDS. The Paris City Council adopted two resolutions condemning attempts to boycott Israel.13 One of the resolutions says the City of Paris "opposes publicly all attempts to isolate Israel from the collective of nations."14 In the UK, the British Cabinet Office released a statement saying that under government rules local authorities and public-sector organizations in Britain are banned from boycotting Israeli suppliers and that violators could face severe penalties. The statement added that such boycotts "undermine good community relations, poisoning and polarizing debate, weakening integration and fueling anti-Semitism.15
The anti-Semitic character of BDS has not only been identified and stressed by the State of Israel, Jewish individuals and Jewish organizations such as the World Jewish Congress,16 the Simon Wiesenthal Center,17 and the American Jewish Congress.18 Senator Chuck Schumer from New York also recently called the BDS campaign anti-Semitic.19
Hillary Clinton and Republicans John Kasich, Ted Cruz and Donald Trump, US Senator Cory Booker, a group of Latin American and Caribbean lawmakers, as well as then British Justice Minister Michael Gove, and German Foreign Minister Frank-Walter Steinmeier have all condemned the BDS movement as anti-Semitic.20
Much of the criticism of BDS, however, does not stress its anti-Semitic character.
One interesting exception concerns the student council of Leipzig University in Germany. The student council voted "to condemn the anti-Semitic BDS campaign," and is "against anti-Semitic measures such as disinviting Israeli academics."21 The vote against BDS was a response to a campus event featuring Lori Allen, a professor from the University of London who supports academic boycotts of Israel and justifies terrorism against the Jewish state.22
In 2015 the German Green parliamentarian Volker Beck stated "There is no doubt of the anti-Semitic motivation within the spectrum of the BDS campaign. BDS aims essentially against Jewish Israelis and is therefore anti-Semitic. Whoever aggressively boycotts Israeli goods and people, should also be viewed as anti-Semitic by the federal government."23 Yet the German government refused to accept this at the time, claiming that there was no definition of anti-Semitism. Since then, the IHRA definition was accepted, which required the German government's agreement. Now Beck's proposal for Germany to view BDS as anti-Semitic merits another try.
In a study Talia Naamat of the Kantor Center at Tel Aviv University analyzes the BDS actions as distortions of international law, human rights principles and the non-discrimination principle of international trade agreements.24 Due to the acceptance of the IHRA definition, the anti-BDS movement can and should now in addition focus specifically on two main goals. The first is to find more allies who not only take measures against BDS or condemn it but also declare it anti-Semitic. The second is to frontally attack organizations and individuals who support BDS as promoters of anti-Semitism.
Footnotes: