Muslims belong to a political organization called Islam, and I reject it.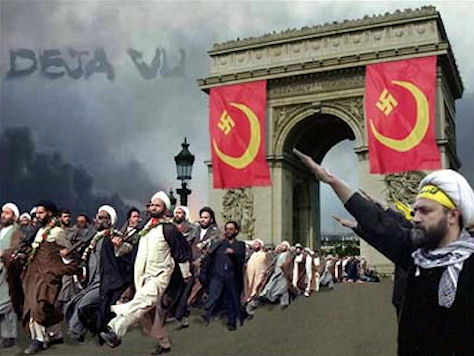 France: The Ticking Time Bomb of Islamization
by Yves Mamou

https://www.gatestoneinstitute.org/9058/france-islamization
The last group, defined as the "Ultras", represent 28% of Muslims polled, and the most authoritarian profile. They say they prefer to live apart from Republican values. For them, Islamic values and Islamic law, or sharia, come first, before the common law of the Republic. They approve of polygamy and of wearing the niqab or the burqa.

"These 28% adhere to Islam in its most retrograde version, which has become for them a kind of identity. Islam is the mainstay of their revolt; and this revolt is embodied in an Islam of rupture, conspiracy theories and anti-Semitism," according to Hamid el Karoui in an interview with Journal du Dimanche.
More importantly, these 28% exist predominantly among the young (50% are under 25). In other words, one out of every two young French Muslims is a Salafist of the most radical type, even if he does not belong to a mosque.

It is unbelievable that the only tools at our disposal are inadequate opinion polls. Without knowledge, no political action — or any other action — is possible. It is a situation that immeasurably benefits aggressive political Islamists.

Willful blindness is the mother of the civil war to come — unless the French people choose to submit to Islam without a fight.
Recently, two important studies about French Muslims were released in France. The first one, optimistically entitled, "A French Islam is Possible," was published under the auspices of Institut Montaigne, an independent French think tank.
The second study, entitled, "Work, the Company and the Religious Question," is the fourth annual joint study between the Randstad Institute (a recruiting company) and the Observatory of Religious Experience at Work (Observatoire du fait religieux en entreprise, OFRE), a research company.
Both studies, filling a huge knowledge-deficit on religious and ethnic demography, were widely reported in the media. France is a country well-equipped with demographers, scholars, professors and research institutes, but any official data or statistics based on race, origin or religion are prohibited by law.
France has 66.6 million inhabitants, according to a report dated January 1, 2016 from the National Institute of Statistics (Insee). But census questionnaires prohibit any question about race, origin or religion. So in France, it is impossible to know how many Muslims, black people, white people, Catholics, Arabs, Jews, etc. live in the country.