Disgusting……..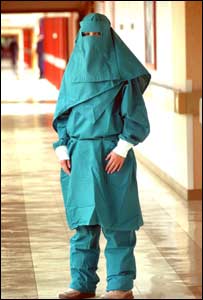 Doctor suspended for calling Muslim assistant's bloody hijab unhygienic
VICTOR LASZLO REBEL COMMENTATOR
In another stunning example of how sharia norms and Islamic thought is replacing actual science in Western civilization, a Czech doctor in the UK was suspended for leaving a surgery because the Muslim assisting in the procedure was dangerously unhygienic.
AN NHS trust has paid a doctor £50,000 to stay off work even after he was cleared of discriminating against a Muslim who refused to remove her hijab.

Vladislav Rogozov, 46, was suspended after claiming a surgeon walked out of an op when he asked her to remove the headscarf.
So we know now that in the UK, asking for hygienic conditions in an operating theater is "discriminating against Muslims."
He has been cleared by the General Medical Council but is still not allowed back to work.

The anaesthetist made the request as he feared the hijab, which he said was spattered with blood, may risk infecting the patient.