All quiet on the sanctimonious front……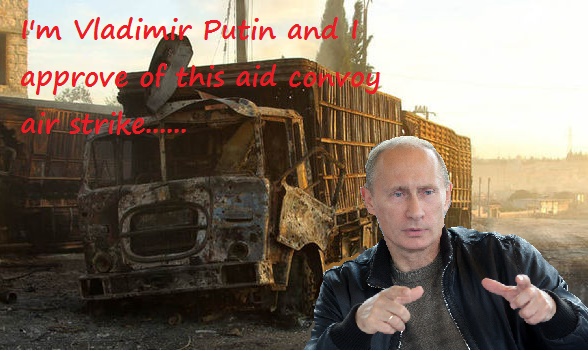 No international protest by the usual suspects who consistently rail against the US and Israel over their military actions.
Russia blamed by US for deadly airstrike on Syrian convoy that killed 20 aid workers
RUSSIAN jets have been blamed for carrying out a deadly airstrike on a Syrian aid convoy which killed 20 humanitarian workers.
Two Russian Sukhoi SU-24 warplanes were spotted in the skies above the convoy in Syria at the precise time it was struck on Monday, according to two U.S. officials.
But Russia has denied its aircraft or those of its Syrian government allies were involved in the incident, in which 18 trucks from a 31-vehicle convoy were destroyed.
The strike appeared to deal a fatal blow to Syria's fragile week-old ceasefire, which was negotiated following a deal between the US and Russia.
All aid convoys in the area have since been suspended following the attack – which occurred just hours after four US-led airstrikes killed 60 Syrian soldiers at a base near Deir al Zor airport.
Two Russian Sukhoi SU-24 warplanes were spotted in the skies above the convoy