Pack them up, and send them back……
Thousands flee migrant camp after 'deliberate' fire on Lesbos
Police said there was "no doubt" the blaze was lit on purpose by those in the Lesbos facility and it was worsening due to winds.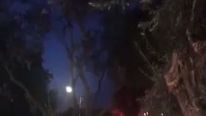 Up to 4,000 people have fled one of the main migrant camps on the Greek island of Lesbos after a large fire broke out.
Police said there was "no doubt" it was lit deliberately by some of those inside the Moria facility and the blaze was getting worse because winds were fanning the flames.
No one was believed to have been injured in the fire which damaged tents and housing units.
But among those who had to evacuate the camp were 150 youngsters who were moved to a children's village on Lesbos.