This is the same clown who sat with OIC head Ihsanoglu and said absolutely nothing when he denied islamic Jew hatred.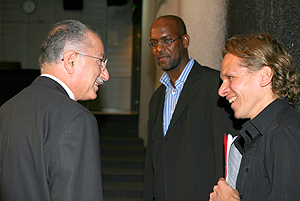 Jewish refugees from war torn cities and oppressive regimes never behaved like muslims.  Israelis, having to endure relentless assaults from their Arab neighbors for generations have never behaved like this. Christians and Yazidis who hail from the same region and have had to flee due to persecution never behave like this.
NOTE: Treating the non-Muslim female as a plaything/whore, to do as they wish with them is deeply embedded in Islam and therefore in their traditions/culture. Juntunen is a big, dumb apologetic spewing jerk.
Researcher: Reason for asylum-seekers sexual offenses is state of emergency and trauma, not religion and culture
 Iraqis who arrived in Finland last autumn have lived their childhood in a collapsed society.
PETE TREASURE AHTIO
RESEARCHER Marko Juntunen deems the conversation about immigrant sexual offenses in Finland  simplistic and misleading. According to him, reason for crimes committed by some immigrant men that came from the Middle East  have been sought in the wrong place.
The explanation is sought both in Finland and in other European countries, religion and Arab culture. Iraqi immigrants researcher Juntunen says the reasons can be found, rather in the collapse of Iraqi society, as well as the breakdown of everyday life and traditions.
JUNTUNEN says today about a published study on Tuesday that Iraqi asylum seekers who arrived in Finland last autumn represent a generation  of state of emergency, disaster and trauma. They have lived their childhood and youth in wars, in the middle of violence and fighting.
"Every single one of the iraki men interviewed in Finland  had a weapon in his home in Iraq," Juntunen writes the Ministry of Employment and the Economy report published by the state of emergency generations – Irakilaispakolaisuus Finland.
Ths realization of Juntunen does not in any event meant as an understatement of sexual harassment or rape.
"It just means that it is impossible to care for the symptoms of men who lived all of their lives in a violent society when they arrive as asylum seekers if the diagnosis is wrong," says Juntunen report.
More in Finnish H/T: Vasarahammer, Thomas Sundbäck ‏