Turkey should be kicked out of NATO, the only ally we should be backing are the Kurds, with a call for a Kurdistan in the region once Assad and the very Islamonazi groups/regimes are defeated.
US Allies Exchange Fire as Tensions Rise in Northern Syria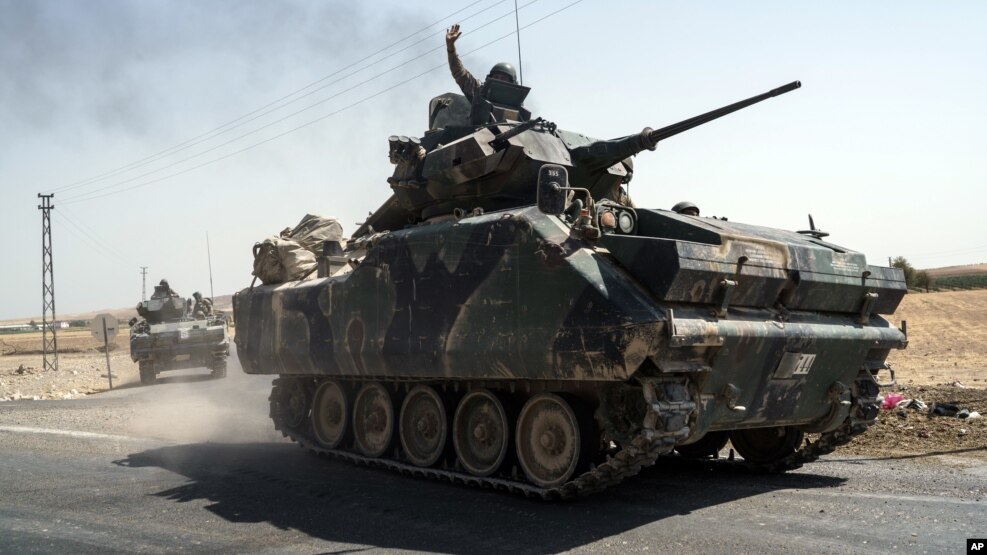 Turkish-backed fighters skirmished Saturday with Kurdish forces in northern Syria, pushing the two U.S. allies in the war against Islamic State extremists closer to an all-out confrontation.
Turkey's Anadolu news agency said one Turkish soldier was killed and three others were wounded in a rocket attack by a Kurdish militia that the Ankara government has identified as terrorists.
For its part, the Kurd-dominated U.S.-backed Syrian Democratic Forces said its fighters were hit by Turkish jets south of the border town of Jarablus, which was stormed by Turkish forces Wednesday but was reported Saturday to be in the control of the SDF. There were no immediate reports of casualties.
The clashes heightened Western concerns that Turkey's military incursion into Syrian territory aims to target both IS jihadists and the Kurdish military grouping known as the Kurdish People's Protection Units, or the YPG militia.
The United States has described the YPG as one of its most effective allies in the fight against IS, while Turkey is demanding a YPG retreat from all border territory seized from IS jihadists.