GERMANY TERROR: Knife wielding Muslim shouts ALLAH AKBAR stabs couple at music festival
66 y/o woman severly injured pic.twitter.com/ZhVTpYQnpO

— Israel News Flash (@ILNewsFlash) August 28, 2016
NOTE: They can all thank Schmerkel for her enormous contribution to the jihad.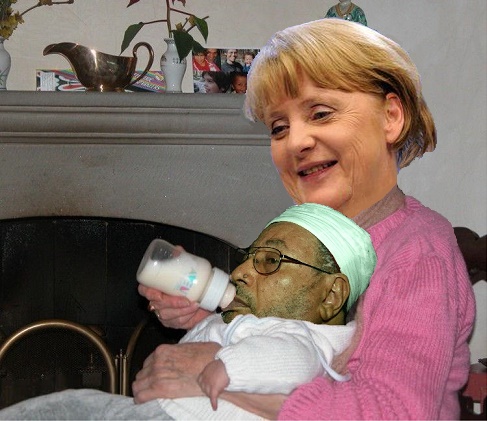 The wouldn't be doubting the man's motive if he was a skin head shouting "Heil Hitler"….
Germany stabbing: Knifeman 'shouts Allahu Akbar' as he attacks couple at music festival leaving wife fighting for life
The two victims – a 66-year-old woman and a 57-year-old man – were attacked but managed to overpower the man who was then arrested by police in Oberhausen
A couple at a German music festival have been attacked by a knifeman who witnesses claim was heard shouting "Allahu Akbar".
A 66-year-old woman, believed to be the other victim's wife, is said to be fighting for her life.
The other victim – a 57-year-old man – is seriously injured however he still managed to overpower the man who was then arrested by police officers in Oberhausen.
The attack took place just after 7pm on Saturday evening.
Police officers say the suspect is a 26-year-old from Duisburg, Germany.
In a statement, police said the suspect was "apparently under the influence ofnarcotics".
Officers say they have also recovered a weapon from the scene.
German media reported that the suspect is homeless.
The phrase "Allahu Akbar" means "God is Great" and has been chanted by Islamic terrorists during attacks.
However officers are yet to confirm a motive for the attack.
NOTE II: Allahu akbar means "Allah is greater", it's the war cry first used when mohamed butchered the Jewish tribe in Yathrib, now called Medina. Shouting it while attacking the couple provides the motive for the attack…..jihad. Those who want to mislead the public feign ignorance and procedural mumbo jumbo talking points.