He'd be right…….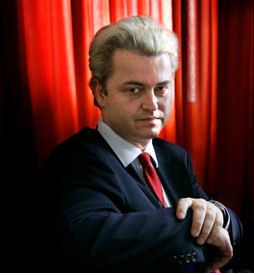 Anti-Islam lawmaker Wilders calls for ban on Muslim migrants
THE HAGUE, Netherlands (AP) — Anti-Islam Dutch lawmaker Geert Wilders, whose Freedom Party has led opinion polls in the Netherlands for months, has published a one-page election manifesto calling for a ban on all asylum seekers and migrants from Islamic nations, and for the country to leave the European Union.
Hammering home themes that have made him one of this nation's most popular and divisive politicians, Wilders also calls for banning the Quran and closing all mosques and Islamic schools.
Wilders' manifesto was the first published by a major political party ahead of elections for the lower house of Dutch parliament which are due by March 15 next year.