I reported on the same issue, but in Finland, way back in 2005……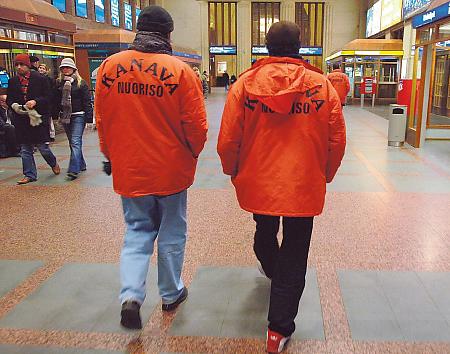 Somali "youth league" policing ethnic group on the streets of Helsinki. Guardian angles they're not:
"It seems like the presence of the patrol on the streets upholds the social system of the immigrant community more than anything else. This may also be behind the fact that there no Somali girls to be seen. "We have no trouble with the girls," says Musse over some coffee. Mohmad Musse,28 : "We do not run into girls often this late. It would be shameful for them to run into us in the street. They do not want to lose face in front of their community."
Now coming to a German city near you: 'Sharia police'
Eyewitnesses reported seeing three people wearing burkas and black gloves driving around Hamburg's Wandsbek district in a black VW.
They said a sticker with an Islamic logo and the words Sharia Police was fastened to the car's bonnet.
There were also reports of another incident in the Dammtor area of Hamburg where witnesses claim to have seen five to seven masked people sitting in a van.
Islamic and ISIS symbols were said to be hanging from the vehicles rear-view mirrors.
The sighting were similar to incidents reported in thew city of Wuppertal near Düsseldorf where a group of people who wore vests with the words 'Sharia Police' urged passersby to stop drinking alcohol and refrain from gambling to ensure strict Islamic moral laws were being observed.
Police and politicians said they were unaware of the latest reports but a local councillor said the authorities needed to keep close eye on the situation to ensure the incidents were not repeated.