Pure evil……
Michelle Obama unavailable for comment.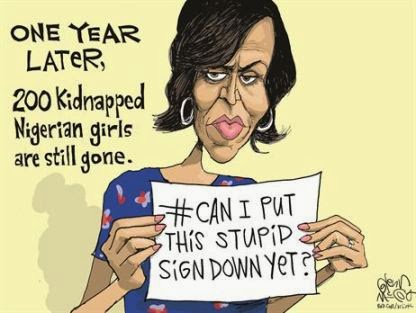 Boko Haram releases new video showing kidnapped Chibok schoolgirls
Boko Haram has released a video appearing to show more of the Chibok schoolgirls who were kidnapped by the Islamist group.
In the video, a Boko Haram militant can be seen standing before approximately 50 girls dressed in headscarves. Addressing the camera, he demands the release of the group's fighters in exchange for the girls' freedom.
He claims five of the Chibok girls were killed by Nigerian military jets during an attack on the group's compound.
The man, whose face is obscured, adds: "They should know that their children are still in our hands."
It is understood the girls featured in the video are with a breakaway faction led by group leader Abubakar Shekau.
This is the third video to be released of the girls since their capture more than two years ago.