This is how they roll in mohamed land…..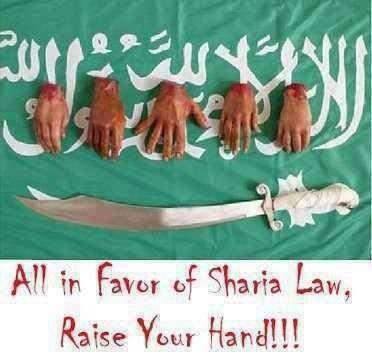 Inhumane ISIS thugs publicly AMPUTATE 'thief's' hand in front of blood-thirsty mob
THESE harrowing pictures capture the moment Islamic State jihadis cut the hand off an alleged thief in front of a baying mob.
NC
The chilling pictures show how callous ISIS really are
The suspected thief was blindfolded in a public square somewhere in the death-cult's stronghold of Raqqa, Syria, before being shoved into a seat as his arm was placed on a wooden table.
One of the extremists holds the blindfolded man down in his chair, while another pulls his right hand out on the table.
NC
A man then rushes in to bandage up what remains of the man's arm
A third masked militant holds a cleaver on his hand, preparing to slam down on it with a large metal pole.
A spectator then rushes in to bandage up what remains of the victims arm.
Public amputations have become standard practice for the blood-thirsty jihadis, as similar pictures emerged in June of another man having his right hand amputated.
Cutting off the right hand of a thief is normal punishment for thieves under Sharia law, which is practiced by ISIS, Iran and Saudi Arabia.