Daily Mail has more:
Syrian refugee, 21, hacks PREGNANT colleague to death with a machete and injures two others before hero BMW driver runs him over in another attack that has shocked Germany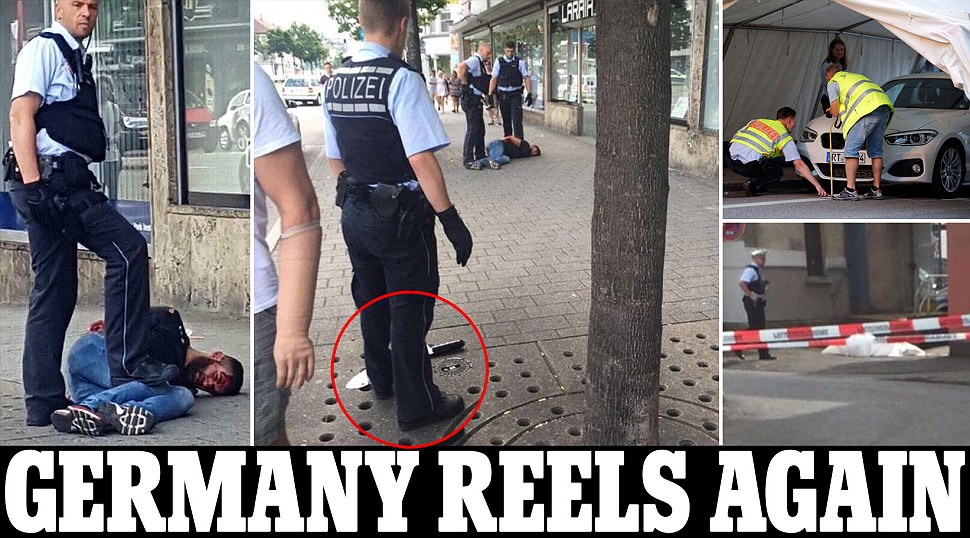 The attack happened in the south western city of Reutlingen near Stuttgart where one woman was killedand another woman and a man were injured before the attacker was arrested by the police. Officers said that the man was a 21-year-old Syrian refugee who it appeared had a dispute with the woman before killing her. They added it looked as though the perpetrator was acting alone and that he had no accomplices. Pictures from the scene appear to show the knifeman lying on the ground with blood on his face. Armed police officers can be seen pinning him down to the ground before binding his hands behind his back. It is believed a man passing the incident in a BMW car ran over the man, knocking him to the ground, before he was detained by police. The attack comes as Germany is on edge, following a rampage at a Munich mall on Friday night in which nine people were killed, and an axe attack on a train a week ago that left five wounded.