Correction for the WSJ's headline and throughout its article, it's just islam, and to be more precise, post-hijra islam, the moment mohamed's movement became a political theory of military conquest.
The Crisis of Political Islam
First Egypt and now Turkey show the perils of ideological religious parties (and strongman rule), but other Muslim countries are faring better with democracy
Turkish President Recep Tayyip Erdogan, center, prayed at the funeral of a victim of the failed coup in Istanbul on July 17.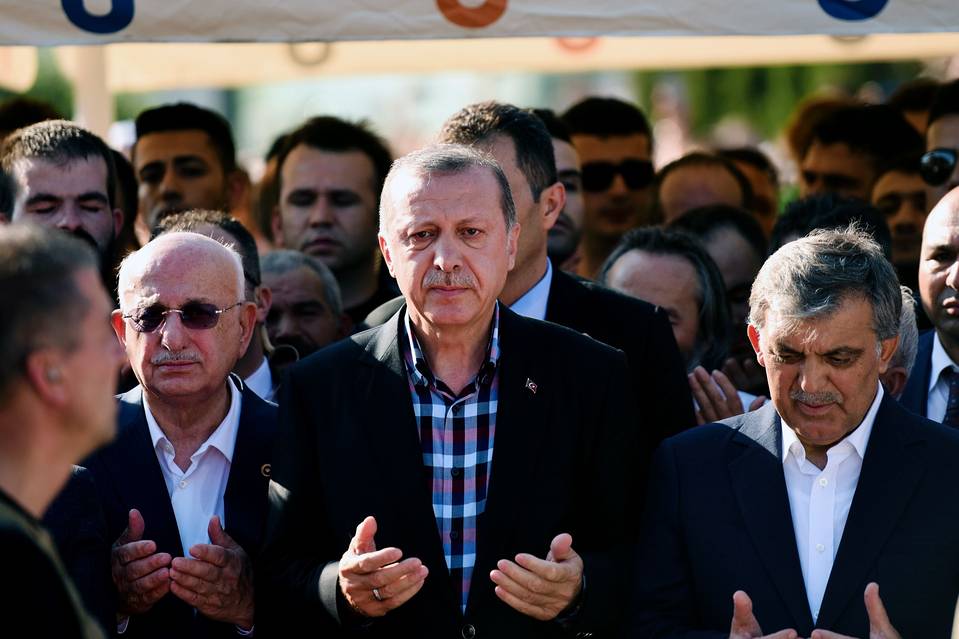 Photo: Bulent Kilic/Agence France-Presse/Getty Images By Yaroslav Trofimov July 22, 2016 5:44 p.m. ET
In 1999, a former mayor of Istanbul named Recep Tayyip Erdogan was imprisoned and banned from politics for life for reciting a poem. "Our minarets are our bayonets, our domes are our helmets, our mosques are our barracks," the incriminating lines went. "My reference is Islam. If I am not able to speak of this, what is the use of living?"
The ban on Mr. Erdogan didn't stick. Now Turkey's president (and prime minister for 11 years before that), he is presiding over a nationwide purge of suspected enemies after the failure last week of a military coup against his government.
For decades, in much of the Middle East, Islamist politicians like Mr. Erdogan weren't able to speak out—and, when they did, they frequently faced a prison cell or a hangman's noose. From Algeria to Egypt to Turkey, the apparatus of the state repeatedly unleashed repression—of varying degrees of harshness—to marginalize political Islam, crushing democratic freedoms while offering the excuse of preserving secular values. The West, preferring the autocratic devils it knew over the Islamists it didn't, often concurred.
In response, many of the Islamist movements that sprang up under the influence of Egypt's Muslim Brotherhood—groups that include Mr. Erdogan's party—have gradually embraced the language of pluralism and the idea of democratic politics and elections. Crucially, however, these modern Islamists have often viewed democracy not as a value in itself but merely as a tactic to bring about a "true" Islamic order. To them, the voting booth was simply the most feasible way to dismantle the postcolonial, secular systems that, in the eyes of their followers, had failed to bring justice or development to ordinary Muslims.
In 2005, Mr. Erdogan—then serving as Turkey's prime minister and acclaimed for improving the country's human-rights record and pushing forward its bid for membership in the European Union—let slip on a trip to Australia that he viewed democracy just as "a vehicle."
In the subsequent decade, Mr. Erdogan has extinguished major centers of opposition in Turkey's bureaucracy, media, military and judiciary. In the wake of the failed coup—itself a vivid confirmation that his suspicions weren't unfounded—he has launched a crackdown on tens of thousands of potential opponents, including detaining nearly 9,000 people since the collapse of the plot. "All the checks and balances have now been eliminated," said Soner Cagaptay, a Turkey expert at the Washington Institute for Near East Policy.
In Egypt, hopes for democracy were high in the wake of the 2011 demonstrations in Tahrir Square that helped to topple longtime autocrat Hosni Mubarak. But the country's first democratically elected president, Mohammed Morsi of the Muslim Brotherhood, took just a few months after being elected in 2012 to start ominously consolidating his rule, granting himself immunity from judicial oversight. His power grab was cut short by a successful military coup the following year, which installed the country's current strongman, Abdel Fattah Al Sisi. His regime has quickly proven more repressive even than Mr. Mubarak's.