I hate this monstrosity……..
The Brits, Swiss and Norwegians have it right, stay the hell out of this regime.
Has Britain avoided a 'European superstate'? France and Germany 'draw up plans to morph EU countries into one with control over members' armies and economies'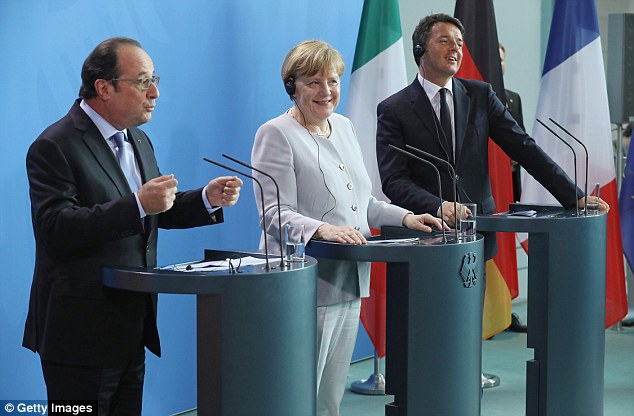 France and Germany reported to have drawn up 'superstate plan'It would mean members give up armies and economic power to the EUReport 'leaked' in Poland where it has been branded 'not the solution'Leaders of Germany, France and Italy said EU was 'indispensable' tonight 
By JOSEPH CURTIS FOR MAILONLINE
PUBLISHED: 20:22 GMT, 27 June 2016 | UPDATED: 00:42 GMT, 28 June 2016
Plans for 'a closer European Union' have been branded an attempt to create a 'European superstate'. 
Germany's foreign minister Frank-Walter Steinmeier and his French counterpart Jean-Marc Ayrault today presented a proposal for closer EU integration based on three key areas – internal and external security, the migrant crisis, and economic cooperation.
But the plans have been described as an 'ultimatum' in Poland, with claims it would mean countries transfer their armies, economic systems and border controls to the EU.