Give up your birthright then losers…….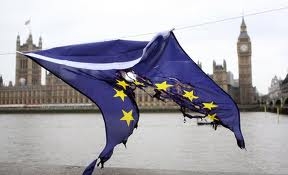 Finland's Brits in shock over Brexit result
British citizens living in Finland have reacted with shock and anger over the referendum result that puts their country on the brink of leaving the European Union. Many told Yle they are now planning to apply for Finnish citizenship as they are worried about their future in Finland.
On Thursday Britain voted to leave the European Union–leaving British citizens in Finland in limbo.Image: Patrick Seeger / EPA
Britain voted on Thursday to leave the European Union, and now 65 million British citizens are working out what the result means for them. There will be a difficult negotiation over terms of separation, but that might not even start right away—PM David Cameron has resigned and his successor will not be appointed for months.
UK citizens, however, are already making contingency plans. Before the referendum we spoke to several Brits based in Finland about their hopes and fears and, most crucially, how they intended to vote. Originally a supporter of the Leave campaign, Andy Patel actually changed his mind on Brexit after he was interviewed by Yle News before the referendum.
"When you last talked to me, my inner conspiracy theorist had discounted the very idea of the Leave vote happening," said Patel. "So much of the establishment were against it. I figured it just wouldn't be possible. One way or another, the vote would be close, but it would go to Remain. I get a feeling a lot of people felt that way, too. Perhaps I was indifferent about the whole thing based on the fact that I wasn't able to vote myself."
"I feel a lot less British right now"
Other Brits were always staunch Remain supporters and are in shock at the result. Chris Moore is head of Growth and Operations at Helsinki startup Sportsetter, and he says that the vote puts further expansion in the UK into the balance—although the falling pound could make operations in Britain cheaper. The main change for him, it seems, is psychological.
"I feel a lot less British right now," writes Chris via email. "I've been away from the UK for five years and lived in Sweden also. I've grown up being a European and mixed with many different Europeans growing up. It's a completely different mindset and openness people have compared to what I've experienced with Brits."
Like others, Moore felt a disconnect from Leave voters—even those in his close family. He echoed a common complaint—that the media had failed to inform voters properly about the choice they were making.
"I was quite disappointed my parents voted to leave the EU, knowing I've been away for so long and will grow our family in Europe," said Moore. "They were more concerned with immigration and having to 'bail out' Italy. Unfortunately they've been misinformed by the media and now will regret that decision."
Identity conflict
Graham Watts, a Scot living in Helsinki, offered another gloomy assessment.
"I consider myself to be Scottish, British, and European, and I feel like all of those identities are now in conflict with each other," writes Watts.
"I honestly cannot see any positive that can be taken from the result: our savings are worth less than they were, my future status as a British citizen in Finland feels uncertain, and the world feels like a bigger, more insular place than it was 2 days ago.  I have Finnish friends in the UK who are also worried about their future status."
Citizenship plans
Cai Weaver was one of the British migrants we interviewed before the referendum, and he was always a staunch supporter of the Remain campaign.
He shared many Brits' anxiety about their status in Finland, and he plans to do something about it as soon as possible.
"This has substantially accelerated my plans for citizenship, what was a nice idea now seems to be a necessity," says Cay. "I would rather be a citizen of an EU country than of a fading power! I enjoy the benefits of EU membership way too much to want to give them up. The U.K. is no longer a country I would want to move back to. I've built my life in Finland and this is now my home. Let's hope it isn't threatened by this week's tragic outcome."
Internal Tory fight
There is some anger at the politicians who called the referendum in the first place. David Cameron and the man likely to replace him, Leave campaigner Boris Johnson, both went to the same exclusive, expensive private boarding school along with many other senior figures in the Conservative Party.
"My country has made the wrong decision in a referendum that was held because of internal fights amongst people who come from very privileged backgrounds," said James Mathews, an engineer from Scotland who lives in Espoo with his Russian wife.
Mathews moved to Finland from Russia one year ago because as an EU citizen he was able to move together with his wife. If they had moved to the UK, he says the couple would have had to spend nine months apart while the paperwork was processed.
That option could soon close for future British migrants looking to make a life for themselves in Finland, or elsewhere in the EU.