Whenever the authorities/media are hesitant to divulge the facts surrounding an incident of terror, when the perp is not a homegrown white male, you can reasonably assume that it's a muslim involved.
Hostage-Taker Killed in a South Hessian Movie Theater
Posted on June 23, 2016 by Baron Bodissey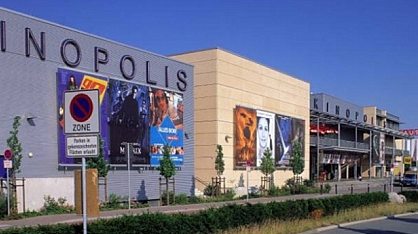 This afternoon a man carried a collection of weapons into a movie theater in the town of Viernheim in South Hesse. He took about fifty hostages before eventually being shot and killed by special operations police.
The incident has all the earmarks of a culture-enriching celebration of the 17th Day of Ramadan — the late perp had an explosives belt and spoke broken German — but the German police have put an embargo on all further information about him, so we don't know the Mohammed Coefficient of the case, nor much of anything else.
Nash Montana has translated two brief articles about what happened at the Kinopolis movie theater in Viernheim. First, from Politically Incorrect:
Viernheim: SEK shoots spree killer at movie theater

About 2:45pm a masked and, according to witnesses, heavily armed man with an ammo belt stepped into the Kinopolis at the Rhein-Neckar Center in the South Hessian town Viernheim.

The perpetrator fired off a few shots, then sought a secure spot and held about 50 people hostage. The area around the location was blocked off by police, who also used helicopters. A short time later the SEK, the Sondereinsatzkommando der Polizei [Special Operations Commandos], stormed the theater and shot the perpetrator, as the Hessian ministry of the interior has confirmed.

There are about 25 injured people, but most likely their injuries resulted from teargas. Any specific information has been held back since the beginning of the operation. Also a gag order was immediately imposed.

Update

18:30 according to security information from the DPA the offender is a "disturbed perpetrator acting alone".21:10 Next to the dead attacker the police found an explosives belt and a hand grenade. According to a witness, the man spoke "broken German".