I'm literally biting my lip…..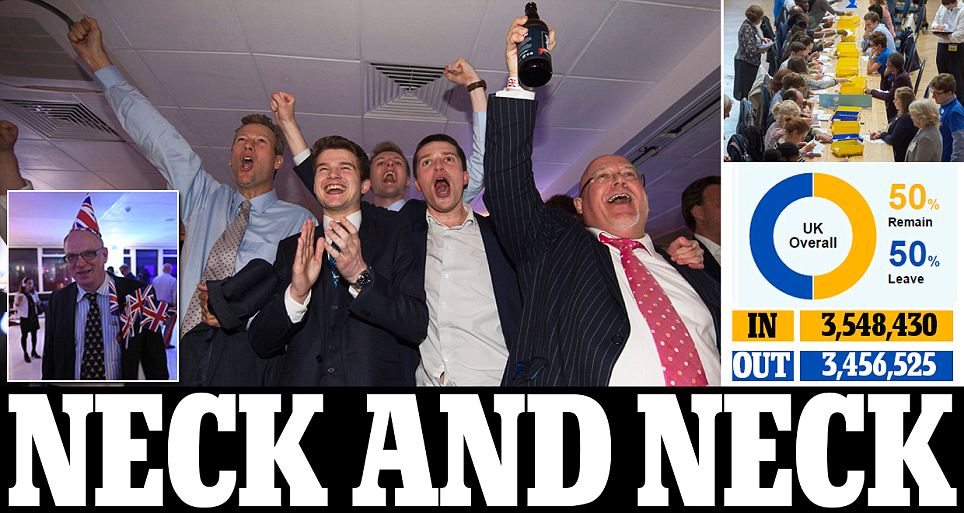 The scale of the divide in Britain over whether we should cut ties with the EU was exposed tonight as results start to roll in in the historic referendum. Sunderland recorded a massive 61 per cent to 39 per cent win for Leave – 82,394 votes to 51,930 – (pictured left, volunteers celebrate on the counting floor) shocking the Remain side which had been voicing confidence about its prospects for victory overall (pictured top right, a disappointed Remain supporter in Belfast). It was swiftly followed by Swindon which voted out by 10,525 votes – 61,745 to 51,220, although Leave had expected to win by a greater margin. Conversely, Broxbourne voted Leave with more votes than predicted – 33,706 to 17,166.
The Remain campaign was bolstered by the first results in London as Wandsworth, Hammersmith and Lambeth all delivered more than 75 per cent of the vote – and hundreds of thousands to the In tally. The Pound – which soared in value earlier after Nigel Farage (inset) admitted he thought Brexit had lost – nose-dived by almost 6 per cent against the US dollar before recovering some of its lost ground. The Ukip leader made the extraordinary statement as voting came to a close at 10pm, but 90 minutes later he qualified his statement by adding that if Remain win it is because of the two million extra voters who were allowed to register late. Based on the current estimated turnout, the camps will need to secure 16.5million votes to win.