Imagine how stupid a non-muslim would have to be to not only convert to islam, but then head to the islamic state to join up with them after reading stories like this.
ISIS CRUCIFY three men after giving them 70 lashes and locking them in cages as punishment for breaking their Ramadan fast in Syria 
By MailOnline Reporter15:29 17 Jun 2016, updated 15:35 17 Jun 2016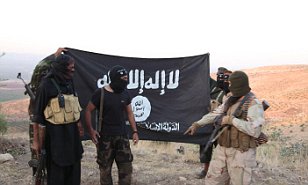 WARNING GRAPHIC CONTENTThe trio were tied onto crosses for eating and drinking during the dayLast year ISIS crucified 94 people, five children, for breaking their fastsReports come after images released of bandaged victim of ISIS amputation 
ISIS jihadis have caged, lashed and crucified three people accused of breaking their Ramadan fasts.
Two people from the Syrian town of Mayadin – territory held by the terror group – were tied onto crosses outside the police station in province of Deir Ezzor.
Another is said to have received the same horrific treatment in the nearby town of Bukamal, according to Justice for Life Observatory.