Sharia and Islamic texts drives them on to kill and main.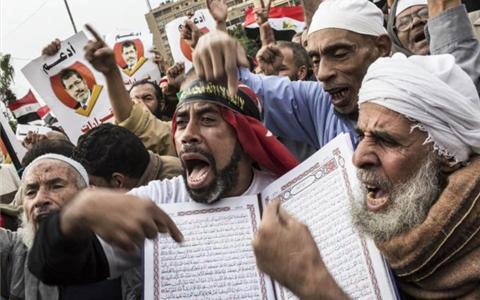 If Leftists want to reign in "hate speech", start with the koran.
GUNS AND HOMOPHOBIA DON'T KILL PEOPLE, MUSLIM TERRORISTS DO
Obama has shaken the hands of Muslim leaders who've killed more gay people than Omar Mateen.
June 17, 2016
Daniel Greenfield, a Shillman Journalism Fellow at the Freedom Center, is a New York writer focusing on radical Islam.
Gun violence did not kill 49 people in Orlando. Guns, no matter whether you call them "assault rifles" or "weapons of war", do not independently kill anyone. No gun, by any name, walks into a gay bar and shoots people. No more than box cutters slash the throats of stewardesses independently or passenger planes fly themselves into the World Trade Center.
When a Muslim terrorist shoots up a gay bar, it's not gun violence. It's Islamic terrorism.
The media insists that a ban on Muslim migration is unconstitutional, but a ban on a right protected by the Bill of Rights is. The Bill of Rights does not provide a right for foreigners to migrate to America. It does protect the right of Americans to defend themselves from Muslim terrorism with firearms.
Blaming our Bill of Rights for Muslim terrorism is an attack on our rights and freedoms. Blaming Muslims for Muslim terrorism is just reality. And acknowledging that reality will protect our rights and freedoms far better than the widespread violations of our rights and freedoms caused by Muslim migration that are embodied in such institutions as the NSA and the TSA.
Blaming guns for Orlando is as fundamentally foolish as blaming passenger jets for 9/11.
We can ban guns, but the largest Muslim terrorist mass murder of Americans in history was carried out with box cutters. Muslim terrorists have killed Americans with pressure cooker bombs, with cars and with box cutters. Were those acts of "box cutter violence" or "pressure cooker violence"?
Or were they Muslim terrorism?