The concept of "lone wolf attacks" within the sharia driven, jihad-as-a-threat doctrine context, is what we are seeing more and more of these days. It's a tactic in a long term strategy aimed at destablizing the West and its allies.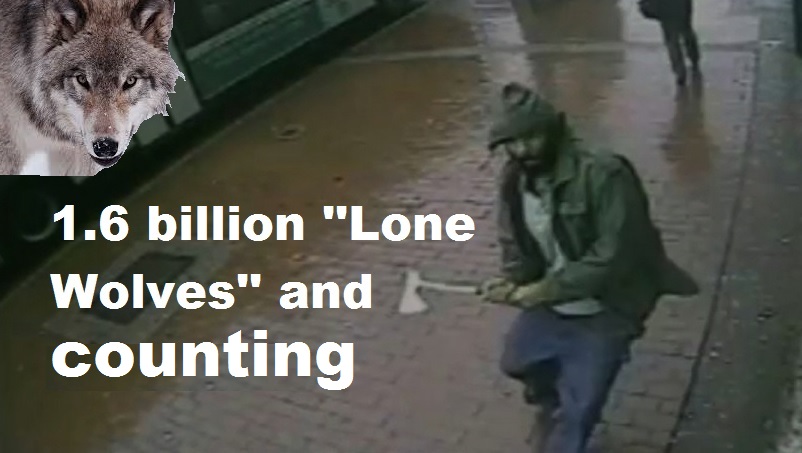 Lori Lowenthal Marcus at The Jewish Press had a stellar piece on this subject, in fact, it's the "go to piece" on understanding the tactic. This is not to say that the days of highly structured and coordinated attacks of jihad are no longer a threat, they are, but that another type of deadly attacks are being actively promoted and implemented. They are the more difficult to uncover in time by law enforcement and intelligence communities. They represent the bigger danger of the two.
But perhaps al Suri's greatest significance to those of us still reeling from the horrors of the Boston Marathon bombings, is advice he offered in this magnum opus, written while on the run between 2001 and 2005, "The Call for Global Islamic Resistance." It is available online.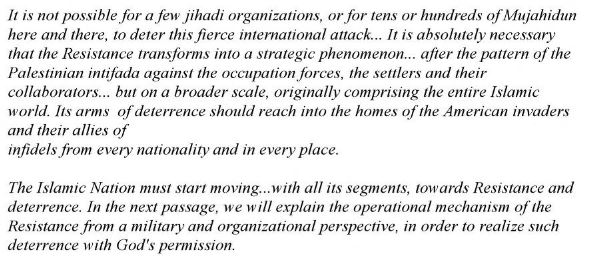 Online Jihadi 'Mein Kampf' Urging: 'Attack Sporting Events'
The global jihadi masterminds endorse a new style of operation, particularly for those in the non-Muslim world arena: small cells, few connections, low cost munitions and high density, high profile crowds. "It's the al Suri Strategy come home to roost."
Published: May 2nd, 2013
Latest update: December 30th, 2013
We live in a world profoundly confused about how, when and whether to assign blame when terrorists hurt innocent people.
Did the Tsarnaev brothers maim and murder innocent Americans because Islam instructs them to do so?  That goes further than almost anyone is willing to go.
Did the Tsarnaev brothers detonate bombs near the finish line of the Boston Marathon on April 15th because they were indirectly but clearly instructed to do that by a powerful jihadi strategist, and did that man issue those instructions because he, and many others, believe they were told to do it because Islam insists on it?  That may be the case, whether or not U.S. officials want the connection known.
A man who was involved at the very start of the global jihad movement, who was a colleague as well as strategic rival to Osama bin Laden, whose efforts have been linked to the 7/7 bombings in London, the '04 train bombings in Madrid, possibly to a Paris metro bombing way back in 1995 and even perhaps to the 09/11 bombings, is certainly someone we all should know about.  And while learning about him, it will be useful to consider whether his legacy connects to the Tsarnaev Boston Terror Bombings. Because by all knowledgeable estimates, this is the man who conceived of, trained others for, and wrote the manual on the modern global Islamic jihadi war against the West.  And the most recent battlefield in that war was the finish line in Boston.
WHO IS THE GRAND STRATEGIST OF MODERN GLOBAL JIHAD?
His name is Mustafa Setmariam Nasar, although he's also known as abu Musab al Suri (the Syrian).  Perhaps his most significant contributions to the cause of global jihad was his insistence that the old-style al Qaeda, with its rigid hierarchical structure, was a disaster for the movement and had to be jettisoned in favor of a different strategy.  In his 1600 page manifesto, al Suri stressed the need for the global jihadi movement to create a new fighting style focused on "individual terrorism."